With an ethos of creating beautiful smiles that reflect your happiness, enhance your overall well-being, and allow you to smile with confidence, Browne Orthodontics have established themselves as the go to for oral care in West Cork.
Established in 2008 and with clinics in both Bandon and Clonakilty, Browne Orthodontics boast a team of multidisciplinary, motivated, professional dental specialists.
Speaking to The Southern Star Dr Michelle Browne said: 'We are patient focused. The patient is at the centre of everything we do. We have very friendly non-judgemental staff that caters for the individual, in beautiful clean, modern surroundings'.
Click play on this video to hear about Aoife O'Sullivan's (Miss Ireland 2018) experience with Browne Orthodontics.
Specialist team
The team at Browne Orthodontics consists of two orthodontists, one endodontist, one prosthodontist, an orthodontic therapist and an oral surgeon.
These specialists are supported by four dental nurses, a speech and language therapist, a treatment coordinator, and a receptionist.
Opening hours are Monday to Friday from 9am until 6pm.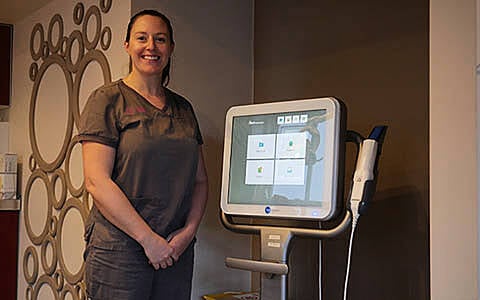 Orthodontic Therapist Tracey Crowley
Early diagnosis is key
Orthodontics deals with the growth of jaws and the alignment of teeth.
Early diagnosis is important and treatment should begin as early as possible according to Dr Browne.
'Age seven or eight is the optimum time for a first consultation. A variety of options are available for correction of malalignment including traditional braces, fixed appliances, and Invisalign, an almost invisible device.
Invisalign
'Invisalign is a fantastic treatment, I've worn them myself. As a professional orthodontist it is important I stand over my treatments. It is an aesthetic and flexible treatment and looks fantastic.
'There is a degree of compliance involved. It must be worn twenty two hours a day. But it can be removed for eating and brushing of teeth'.
Invisalign can also be worn playing sport. Structurally they do the same as traditional braces just via a differently modality.
The service is not just for young people though. About 40% of their patients are adults.
'It is so flexible. We've had brides come for treatment' Michelle smiles, 'they are 70% of the way through, pause for the wedding and honeymoon, then return to complete the full treatment'.
On November 13th Browne Orthodontics are hosting an Invisalign day at their Bandon clinic.
Everyone can avail of a free consultation with orthodontic specialist Dr Michelle Browne and can get €250 off their full treatment. An 'iTero' scanner will give patients a realistic forecasted outcome of their treatment via 3D images.
Book your place at the Invisalign Open Day by calling 023-8852954 or by messaging Browne Orthodontics on Facebook.