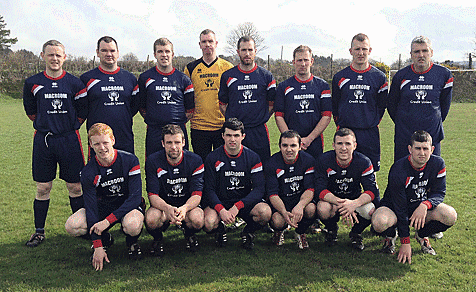 By Ger McCarthy
CROOKSTOWN and Dunmanway Town will battle it out for one of the West Cork League's most coveted trophies when the two sides cross swords in Canon Crowley Park next Sunday.
The mygaff.ie Cup will be on the line between two sides that have reserved their best football for the region's most prestigious knockout tournament during the 2014/15 campaign.
Away from the cup, Crookstown and Dunmanway experienced contrasting fortunes with Town involved in the Premier Division title shake-up until falling away during the championship run-in while Crookstown failed to avoid the dreaded drop and were relegated to Division 1.
Crookstown
Interestingly, Crookstown hosted Dunmanway in their opening fixture of the season with the Mohona club running out 1-0 winners in a Parkway Hotel/Maybury Coaches Cup Group 3 tie.
Crookstown began their Premier League fixture-list with an encouraging 1-0 defeat of Rosscarbery courtesy of Martin McCarthy's solitary strike before a 7-1 humbling at home to Skibbereen.
A 2-1 win away to their mygaff.ie cup final opponents Dunmanway occurred in Mohona on September 27th with Martin McCarthy and Darren Shine on target before a dreadful run of form saw Crookstown lose five consecutive league fixtures and become embroiled in a relegation dog fight.
A 1-0 victory at home to Mizen on November 23rd halted a worrying losing streak before Darren Shine netted the only goal of their next league fixture at home to Dunmawnay to complete a league 'double' over their upcoming opponents in the mygaff.ie decider.
A 5-0 thrashing away to Togher Celtic preceded one of Crookstown's best performances of the season, gaining a point away to champions elect Drinagh Rangers following a gutsy 0-0 draw.
Losing 4-3 at home to Clonakilty AFC proved a huge body blow on the first weekend of January however before Crookstown's relegation was confirmed following back-to-back losses to Riverside and Skibbereen during the month of February.
The goals have been evenly spread throughout the Crookstown squad during the 2014/15 season with James Kelleher and Darren Shine topping the charts with five apiece.
Andrew Kenneally, Martin McCarthy and Colm Crowley have also chipped in with some important strikes but the lack of a 15-goal a season individual goal-scorer proved costly and prevented Crookstown from retaining their Premier Division status.
Dunmanway Town
A 2-2 draw with Mizen and 1-0 defeat of Crookstown got Dunmanway's season off to a flier in the Parkway Hotel/Maybury Coaches Cup before Eoin Lavers netted the only goal of a 1-0 win at home to Rosscarbery in Town's Premier Division opener.
September proved a difficult month with the Mohona club suffering consecutive league defeats to Skibbereen and Crookstown ahead of a badly-needed victory away to Riverside at the beginning of October.
Mark Quinn and Eoin Lavers scored in the 2-1 win over Athletic but Dunmanway's inconsistent form continued with a disappointing defeat at home to Clonakilty AFC preceding a terrific 3-1 victory over local rivals Togher Celtic with Jerry McCarthy (2) and Lavers finding the net on October 19th.
November saw Town rebound from a 2-1 loss away to Drinagh by registering consecutive victories over Riverside and Skibbereen and scoring seven goals in the process.
Yet again, inconsistency struck as Town took a meagre point from their next two outings against Crookstown (0-1) and Mizen (0-0), severely denting their title ambitions.
The New Year began with progress in the mygaff.ie Cup ahead of a thrilling 3-2 victory away to Clonakilty AFC before one of the games of the season saw Dunmanway and Drinagh play out a marvellous 3-3 derby draw in Mohona on February 8th.
That result handed the initiative to Drinagh and the Canon Crowley Park club deservedly went on to claim the Premier Division title.
Jerry McCarthy's 16 goals were crucial to Dunmanway's title challenge and subsequent mygaff.ie cup run. Johnny Kelly's total of 10 and Eoin Lavers' six strikes were equally as important as were Mark Quinn and Barry O'Donovan combined total of nine from midfield.
League form goes out the window on Sunday so will Crookstown's experience of reaching last season's cup final prove the deciding factor or will Dunmanway's free-scoring attack tilt the balance in the Mohona club's favour? It all comes to a head in Canon Crowley Park on Sunday.
Tomorrow: How Crookstown and Dunmanway Town made it through to this season's mygaff.ie Cup final.