Bantry Blues footballer makes regular trip from Castletownbere to city for inter-county training
SPARE a thought for Ruairi Deane's black 2010 Vauxhall Insignia.
On a normal week, it clocks up well over 800 kilometres ferrying the Bantry Blues man to and from Cork senior football training.
That's before you factor in the short journeys closer to home for every-day use.
Ruairi hits the road three times a week for that regular 270km round trip from work as a teacher at Scoil Phobail Bheára in Castletownbere to inter-county training at Páirc Uí Chaoimh.
It's a road well travelled for the furthest west based Cork senior in the county.
'Most of the the time I am coming from Castletown to training. A typical week would be Tuesday, Thursday and Saturday up and down from Castletown to Cork,' he explains.
'It takes the bones of two hours up, so that's four hours up and down.
'I'd be in school for half eight in the morning, would head to the city straight from school, be up in the city for half six, quarter to seven, and I'd be back home for ten or half past, and straight into bed.'
It's a car journey he takes on his own. When Tadhg MacCarthaigh's Colm O'Driscoll was on the Cork panel, they shared the spins from West Cork to wherever training was – but now it's a familiar solo journey for Ruairi.
Start in Castletownbere, through Bantry, onto Dunmanway, up towards Crookstown and on into the city. It's the same route back down west after a tough night's training.
According to AA route planner, it's a 135km one-way journey that takes two hours and eight minutes. Double that and you have the return trip. That's over four hours in the car to and from training, three times a week. Sandwiched in between is the training session.
When he leaves his base in either Bantry or Castletown for work in the morning, on Tuesdays and Thursdays he doesn't get home until late that night. He'll repeat the journey at the weekend. But he takes it all in his stride. He has his routine now, food prepared from the night before.
'I'd be complaining if I wasn't up and down the road so I try to make the most out of it and enjoy it,' Ruairi says.
'It's not as if I am doing nothing on the drive up and down. I could be listening to music or just clearing the head after a tough day at work or clearing the head after a bad training session or a bad match. At least the people that are involved with me in my home life aren't feeling the brunt of it because I have got it out of my system on the way home in the car.'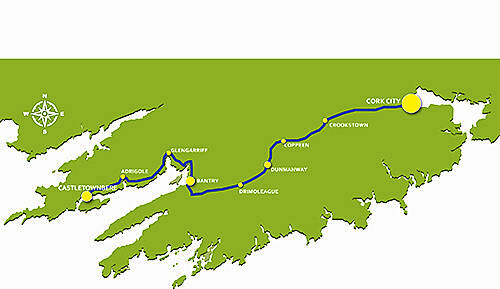 The car. That Vauxhall Insignia with over 290,000 kilometres up on it. It knows the main roads and back roads better than most, but so does Ruairi who has always had a long drive to and from inter-county training. It's become the norm for him.
'I was in college in Tralee when I first got on the Cork panel so I was up and down from there,' he explains.
'When I was in Tralee, training was three nights a week in Cork – Monday, Tuesday, Thursday and once at the weekend. Then I was travelling home at the weekends too to Bantry so I was putting up some serous mileage then, more than I am now.
'After Tralee I was in UL in Limerick and it was up and down from there. Now it's Castletown. I must like driving because I chose all those places!
'I have had two cars over the past six or seven years and I'd say the third is on its way. It's under pressure.'
If any local car dealer is quick off the mark, they'd spot an opportunity here: Cork football's most consistent performer in 2018, one of the established figures on the panel who regularly beats a track from the west of the county to the heart of the city. That's a no-brainer. What's more, most of the time, the Bantry Blues man enjoys driving. (Well, considering the mileage he clocks, that's good for his sanity – Sports Ed)
'It depends on the mood. Some days I do, others I don't. It depends on what's gone before it. Ninety-nine per cent of the time, I am happy enough to be doing it.'
This weekend will see Ruairi on the road again as Cork begin their Allianz Football League Division 2 campaign away to Fermanagh. While the logistics of the trip weren't set in stone when Ruairi spoke to The Southern Star, he'll strike for the city on Saturday, park the car, land home Sunday night, jump back into his trusty wagon and point it west. He'll have another two hours to travel once his feet land in Cork city. That's commitment.
'I'm not sure of the finer details but I'll be home for around midnight, or after,' he says, and back up early the next morning for work.
Geographically, Cork is wide and vast, with West Cork and its Beara arm spreading deep west. Those in other parts of the county might not fully appreciate how West Cork keeps rolling west. It's an eye-opener for some when the penny drops.
When Cork County Board Chair Tracey Kennedy visited Beara clubs last summer, she said, 'I began to realise the reality of Beara GAA. It's a two-hour drive from my front door to Castletownbere. If I drove two hours north from home I'd nearly be in Dublin. It just brought home to me the scale of the county.'
Recently, former Cork selector Ciarán O'Sullivan stepped back from the role, with his travel commitments front and centre. He lives in Eyeries.
Rebel boss Ronan McCarthy said: 'It was a huge commitment for him. It is five hours driving a night, every time he comes to training.'
So, one question, Ruairi. Why?
'I love playing, I love being involved with Cork, it's something that I always wanted to do so it's not a chore. I chose to be there because I want to be there,' he says.
'Everyone knows you have only a limited window so I am trying to make the most of that as well. Your inter-county career might only be five, six, seven years so I am willing to put other things on hold to do this.
'I do this because I love it.'
In the recently released five year plan to kick-start Cork football at inter-county and club levels, there was mention of the creation of 'regional training hubs' to help keep the travelling time spent by elite players and coaches to a minimum. West Cork is an obvious home to a regional training hub, according to Brian Cuthbert who was involved in the sub-committee behind the plan.
'I know it's down for the line but for me you would have two bases in West Cork, one further west than the other obviously,' Cuthbert says.
Until the day those hubs become a reality, Ruairi will continue on the road well travelled. And he won't moan. It's his choice and he wouldn't want it any other way. He takes commitment to the next level.
But spare a thought for his car.