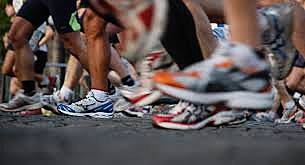 TODAY, Thursday April 30th, is the closing date for general marathon entries of the Irish Examiner Cork City Marathon. There is still time to submit a late entry (with small penalty) through May 8th.
The marathon is a major destination event, attracting participants from all over the world to Cork City. The 8,000 runners who took part last year represented 26 countries and the 32 counties of Ireland. Over 9,000 people are expected on the start line of the Half, Full and Relay Marathons.
People can sign up for the full and half marathons or for any of the relay teams. Relays are a great way for friends or work colleagues to come together for fun or a charity fundraiser. With up to five people in each team, the most anyone would have to walk or run is 5.8 miles.
To sign up, visit IrishExaminerCorkCityMarathon.com today. Entry fees start at just €27.50 for concessions. Concession fees apply to students, persons on disability pension and dependent spouses, carers, pensioners, the unemployed, persons on disability benefit and dependent spouses, lone parents and asylum seekers.