DAIRYPOWER Equipment, a leading family-owned business specializing in slurry management solutions, proudly celebrates its 50th anniversary this year.
Since its establishment in 1973 by John O' Donovan, the company has continually strived to develop and manufacture high-quality products for slurry management in livestock farming.
Origins
Originally focused on milking machines, Dairypower made a groundbreaking leap in 1985 with the introduction of the hydraulic Ratchet Scraper system, which quickly became a market leader. Garnering immense success in the Irish market, John and his son Pat O' Donovan, the managing director, expanded their reach by attending trade shows throughout Europe, establishing a robust dealer network spanning over 40+ countries worldwide.
In 2010, Dairypower further enhanced its Scraper range with the development of the innovative Eco-Clean Rope Scraper system, capable of cleaning up to 200 meters in length and incorporating a Double-Winch system to streamline operations.
New Systems
In 1998, Dairypower revolutionized the industry once again with the introduction of the Smart-Slurry Aeration system to the Irish market.
Collaborating with renowned research farms such as the Dairy Campus in the Netherlands, this system has proven to be the safest, most cost-effective, and environmentally friendly solution, ensuring slurry remains in a homogenous, pumpable state, ready for spreading.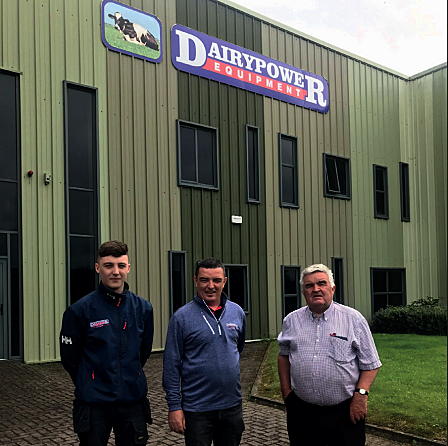 Expanding
Operating and manufacturing from its headquarters in Cork, Dairypower has expanded its operations in 2020 by adding a Dairypower UK distribution centre in Fishguard, Wales catering to the growing demand for its products across the Irish Sea.
As the company embarks on its next half-century, they are looking forward to moving into their new state-of-the-art manufacturing and distribution Cork headquarters, currently being renovated, in 2023.
'We are thrilled to celebrate 50 years of innovation and growth in the slurry management industry,' said Pat O' Donovan, Managing Director of Dairypower.
'The continued success of our business is a testament to the unwavering support of our dealers and customers who have been with us throughout this incredible journey. We are grateful for their trust and are excited to continue working together for another 50 years.'
For more information about Dairypower and its innovative slurry management solutions, please visit www.dairypower.ie