The Tullineaskey Equestrian Charity Shows hosted by Grace Santry and her team over the last three years have raised over €23,000 for Lisheens House.
This amazing sum has enabled the Skibbereen-based suicide prevention charity to offer free counselling, training, and support, not alone to people in West Cork but throughout the city and county.
'The proceeds of Grace's wonderful two-day event have made all the difference to us and quite literally kept the doors open in the early days as we did not, and still don't, receive any State funding,' said Noreen Murphy, founder of the charity.
'It is great that people in the locality are able to access help without enduring expense and long waiting lists. That is very important for both myself and my family as we lost our beloved son and brother Jonathan to suicide in 2013,' said Grace.
'We still grieve and miss him every day, but we get great comfort knowing the proceeds of the two-day charity show go directly to providing counselling, training and support to people in our community, without having to travel long distances to access help.
'This year's event on Saturday 4th and Sunday 5th of January, promises to be the biggest and best yet, with something for everyone young and old alike, even if you don't know one end of a horse from the other'.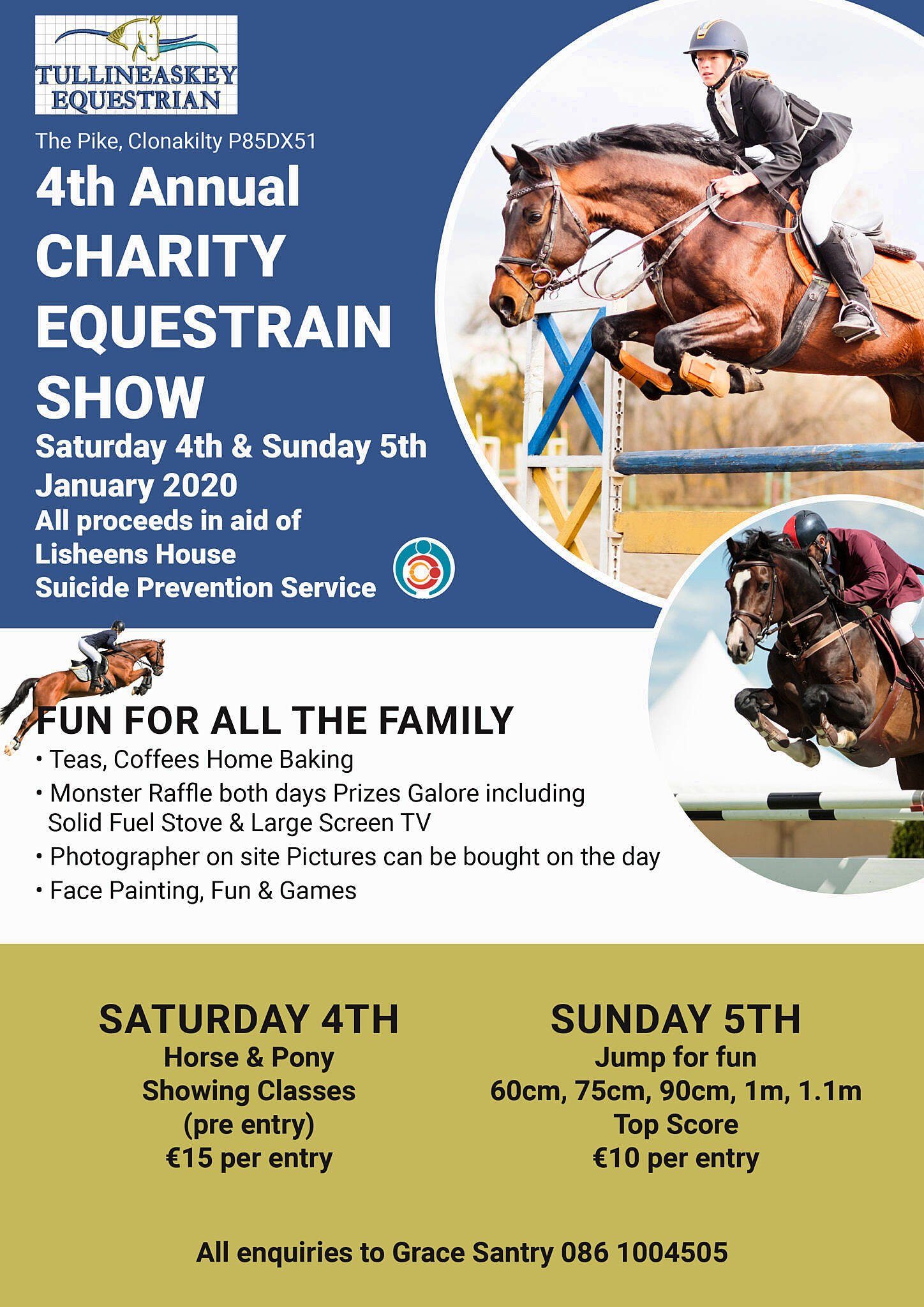 Due to increased numbers showing and competing last year, Grace and her team have extended the car park and there is now plenty of room to park trucks, horseboxes, and cars and trailers.
The prizes for this year's raffle are amazing including a solid fuel stove, a Panasonic HD TV and soundbar plus many more, all sponsored by local companies who will be acknowledged throughout the two-day event.
'It really is a community effort,' added Grace.
There will also be a separate Confined Grand Raffle with a choice of an Ivor Williams HB506 (horsebox), a TA510G (livestock trailer) or a LM126 (flatbed trailer).
So, a perfect opportunity for all the family to get out after the Christmas festivities and enjoy two days of fun while supporting positive mental health in the community.
For more details on the Charity Show, plus the work of Lisheens House, please visit: www.lisheenshouse.ie