Jerome Wholihane, from the Mealagh Valley, explains the impact of the yes vote on his community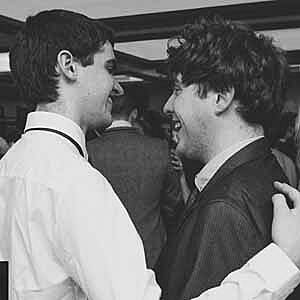 MY alarm rang at 9am last Saturday morning. I was still exhausted from the day before when I had been down to Bantry to vote, and taxi-ing people to and from the polling station.
I lay in bed knowing that ten minutes down the road, thousands of ballot papers were now pouring onto tables. At 9:02 I turned and looked at my partner, Adrian. I dared to hope that this would be the last morning that we would wake up unequal. I gave him a gentle hug.
At 9:05 I reached across and picked up my phone, turning it on to see the background photo of both us us laughing in a bar. It made me smile – as it always does – and then I opened my Twitter app. It was now 9:08. That time will stay with me for the rest of my life. It was the minute that Aodhan O'Riordain predicted a Yes victory.
My heart pounded in my chest, emotions that I never felt before coursed through my veins. I whispered to Adrian: 'I think we won'.
But I couldn't believe it. This was just the boxes in Dublin. Of course it was going to be a big 'yes' there. Rural Ireland was going to vote 'no' surely. There was no way it could pass this easily. Then I scrolled down.
Tweet after tweet, the tally numbers from rural Ireland reported yes, yes, yes, yes – each and every one of them calling a yes vote. I still didn't believe it.
I went to the City Hall after dropping Adrian to work and I listened to the tallies from Cork City, all yes but I couldn't shift this sinking feeling that it was all going to go wrong.
Then I got a text from a friend saying 'wowser'. I wondered did this word mean what I thought it did?
I rang her and it meant exactly that. In Cork South West – my home constituency – the tallies were predicting a yes victory.
When I got off the phone, I walked to the bathroom and couldn't contain it anymore, I cried like I never had before. WE HAD WON.
The people of my home town and community had overwhelmingly voted yes to my love.
They had listened to our stories at the doors and they had decided to vote yes. For me, this journey to equality started three years ago when I went to my local TDs – Michael McCarthy, Noel Harrington and Jim Daly – to speak about equal marriage for lesbian, gay and bisexual people.
All three were very receptive and lobbied to see this referendum brought to the people.
I want to thank all three of them for standing with me and the many other lesbian, gay and bisexual people who call West Cork their home. I cannot express the gratitude that I have for the work that they put into this campaign, even if it did result in me and Yes Equality Bantry having a bizarre mix of Labour, Fine Gael and Fianna Fáil posters in our cars!
The fact that people from across party lines came to work together shows the importance of this campaign and what it meant to people.
As I went door to door with Yes Equality Bantry and Yes Equality Cork, I saw such a fantastic mix of people. We all walked the city streets and boreens of West Cork together to create a brighter future for Ireland.
It was a campaign like no other. For our little group in Bantry, we sometimes worried we might only get 10 people through the door to our events. We got eight times that.
I have never met a more passionate and inspiring group of people and I am so thankful to them for the change they helped make in our society.
My eyes have been opened to the amazing nature of Irish people. We have come a long way from the dark oppressive days of our collective past.
We have done what many nations have failed to do – we have acknowledged the wrongs of our past and we have made a bold statement to move forward, leaving those wrongs in the pages of history where they belong.
Today we Irish are the first people in the world to vote for same sex marriage. The world watched in awe as we resoundingly said Yes.
Hold your heads up high for we have done – what no other nation has done before.
Our future is bright and there is no telling the heights that this great nation can reach.
Go raibh míle maith agat.