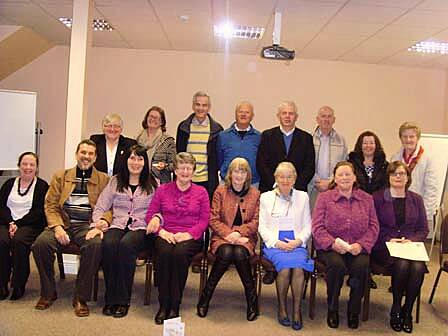 THE Cork Scripture Group has just announced the second graduation, involving 19 graduates.
The nineteen graduates who completed the two-year Diocesan Certificate in Biblical Studies came from Ballingeary, Bandon, Bantry, Drimoleague, Drinagh, Dunmanway, Kilbrittain, Newcestown, Schull and Timoleague. They each received certificates signed by Bishop John Buckley of Cork and Ross.
Bishop Buckley, who was unable to attend, sent his best wishes and said that he was delighted to hear about the success of the course.
The graduation evening was held in the West Cork Education Centre on Thursday March 26th and began with a Liturgy of the Word followed by the presentation of certificates by Fr John Newman.
Fr Newman fondly remembered the bible in a special place in his own home when he was growing up. As he got older and studied the scriptures, he realised that they asked the great questions about life and its meaning. As a follow-up to the course, Fr John recommended that everyone should spend some time in quiet prayer with scripture, as well as group study and prayer.
The Cork Scripture Group was formed about three years ago to promote scripture in the Cork area. Following a number of meetings it was decided to run a two-year Introduction to the Bible course. The group aims at having high standard lectures, while keeping the cost as low as possible. The voluntary committee consists of Lorna Downey, Fr Ben Hegarty OP, Marian Mortell, Phil Mortell and Fr Sean O'Sullivan.
The course consisted of four modules each of six weeks duration and covered an introduction to the Bible, an introduction to the Old Testament, The Gospels and the Early Church, and the Letters of St Paul.
Each module also included a Saturday workshop which was open to the public. The course received great support from Scripture scholars throughout the country. The presenters included Mons Ned Goold, Fr John Newman, Dr Jessie Rogers, Sean Brennan, Diane Corkery and Dr Kieran O'Mahony, as well as all of the members of the committee.
A new Cork course (based in Scala, Blackrock) began in February and has just completed its first module. To find out more, contact [email protected]