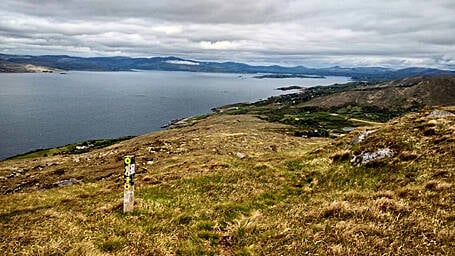 WALKERS and runners of all ages and abilities will make their way to Ahakista on August 29th for the inaugural Sheep's Head Challenge.
The world famous Sheep's Head Way, which in 2009 was selected as a European Destination of Excellence, will be the picturesque setting for the charity event which aims to raise funds for Bantry Hospital and Ahakista Community Association.
The route is a 15km loop trail which begins at the Tin Pub in Ahakista, and offers stunning views from Dunmanus Bay to Bantry Bay.
Organiser and Ahakista native Declan Whooley is looking forward to the event and says there has been growing support for the novel race. 'Thousands of visitors from all around the world walk the Sheep's Head Way every year and with an interest in hiking and trail running myself, I felt such an event would be a real attraction and raise some badly needed funds for such worthy causes,' said the Dublin-based journalist.
'With 200km to choose from, the most difficult part was identifying the most appropriate route, but we finally chose the Glanlough loop which offers challenging climbs, spectacular views and a perfect way to see The Sheep's Head Way in all its glory,' explained Declan.
He said there has been fantastic support locally with volunteers in plentiful supply, and fields offered for parking and camping. Raffle prizes include a two night stay in the West Cork Hotel in Skibbereen, Munster Rugby match tickets, a sailing package on Dunmanus Bay courtesy of Carbery Sailing, while Arundel's by the Pier have provided a dinner for two.
A registration fee of €20 will be charged for all participants, with walkers getting underway at 10.30am, followed by the runners an hour later. Water stations will be scattered along the course, along with race stewards to guide those unfamiliar with the course. The Red Cross ambulance service will be present on the day, should medical assistance be required.
The proceeds of the race will be split between the two local causes. Friends of Bantry Hospital has raised more than €630,000 over the years for items such as a CT scanner, ultrasound equipment, phototherapy unit and more recently endoscopy equipment.
Ahakista Community Association is a completely voluntarily-run charity and has been busy fundraising since it was granted planning permission for a Community Activity Centre in the village. Currently in place is a small cabin which is heavily used by Muintir Bhaire Foroige club, Muintir Bhaire Sea Scouts, Ahakista Rowing Club, Muintir Bhaire GAA, Sheep's Head Producers and the local Community Council.
'The new build will provide the space and facilities to allow our community to flourish. We fundraise all year round and this event promises to not only be a great day out for locals and visitors, it will hopefully help us towards our targets for the activity centre,' says PRO Jessica O'Sullivan.
'We also donate our funds to causes close to our community's heart, such as Suicide Aware, Bantry Stroke Unit and Bantry Hospice. Every cent raised goes to a most worthy cause and we hope people near and far will come to support the event.'
For more information on the race visit The Sheep's Head Challenge Facebook page at www.facebook.com/thesheepsheadchallenge