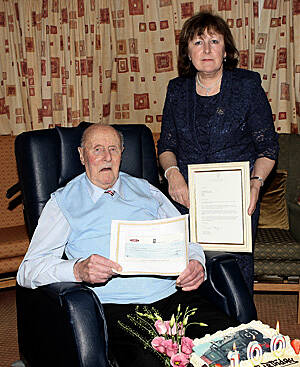 By Kieran O'Mahony
THERE were celebrations all 'round last Sunday at the Care Choice Nursing Home in Clonakilty where Barney Bennett from Bandon celebrated his 100th birthday.
Staff, friends and family gathered around to celebrate this special milestone.
'Barney had a wonderful day and it was great to see some of his ex-bank colleagues there as well as some of his friends from Bandon. Alwin Williams from Bandon also stood up and spoke about Barney which was a nice touch,' said Helen Kingston, whose mother was a first cousin of Barney.
'What was great, too, is that he had cousins from both the UK and the US in attendance for the special celebrations. The cake he got was very appropriate as well, because it had a picture of a train engine. Barney has a great interest in trains as his dad was a station master at Upton Station.'