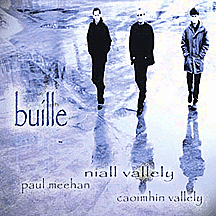 A VERY special traditional concert will be held in the Ionad Cultúrtha in Baile Mhúirne on Tuesday, January 27.
Traditional group Buille, comprising Armagh natives Niall and Caoimhin Vallely, with Brian Morrissey, Ed Boyd and Kenneth Edge, will bring their unique music to the venue from 8.30pm on the night to record their latest album.
Buille, which is the Irish for beat or strike, only partly describes the impact of the Buille sound which was described by The Irish Times as 'as fresh a breath that's blown through traditional (and roots) circles in a long, long time.'
The music, which is all newly composed, draws its influences from jazz, blues, Eastern Europe, contemporary classical music, and of course their own roots in the Irish tradition.
Their debut album, simply titled 'Buille' and released in 2005, was produced by Donald Shaw and released on his Vertical Records label.
Over the course of 2011 and 2012 the band organised a series of experimental concerts in Cork entitled 'Junctions – New Musical Encounters', where they invited a collection of their musical heroes to perform with them.
The diverse line-ups included, such luminaries as Béla Fleck, Martin Hayes, Michael McGoldrick, Jean Michel Veillon, Jacky Molard, Mairtin O'Connor, Cathal Hayden, Steve Cooney, Dónal Lunny and others.
The resultant collaborations have sown the seeds for the latest chapter in the Buille project, which will be a live album of new music inspired by the original Junctions series.
This will be recorded in the Ionad Cultúrtha in Baile Mhúirne on the night, and released in the Spring.