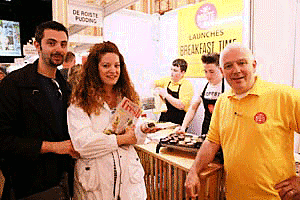 SEVERAL new jobs have been created this year in West Cork, thanks to the success of a SuperValu/Bord Bia initiative.
The scheme, which is also run in conjunction with the Local Enterprise Offices, has resulted in a boost to the local artisan food industry.
Agriculture Minister Simon Coveney announced a total of 65 new jobs for Cork and Kerry at the Cork and Kerry Food Forum at Cork City Hall over the weekend.
The jobs, he said, are being created in food business start-ups as a result of the Food Academy, a collaboration between Bord Bia, SuperValu, and the Local Enterprise Offices of Cork & Kerry, Cork & Kerry County Council and Cork City Council.
The Cork and Kerry food producers who participated in Food Academy will generate sales worth €1.2m in 2015.
Speaking at the Forum, Minister Coveney said that confidence and self-belief as innovators in the food and drinks sector are critical success factors for start- up enterprises. 'The Food Academy – a unique collaboration between Bord Bia, SuperValu and the Local Enterprise Offices – is helping start-ups to bring their innovative ideas to market stage. The net effect will be the creation of 65 jobs in 2015. A collaborative approach is the key to building success,' he said.
Also speaking at the event, Martin Kelleher, managing director of SuperValu, said the jobs announcement was a 'real endorsement of the Food Academy initiative which allows us to bring community-based food start-ups to the retail market and provides them with the potential to grow their businesses even further.'
He added that it was great to 'nurture the energy and passion of these entrepreneurial producers and harness this into producing a range of products that we are proud to stock on our shelves.
By matching SuperValu stores with start-up food business in their area, the Food Academy programme is providing a real boost for local economies throughout Ireland.'
As SuperValu stores are independently owned and operated, SuperValu retailers are able to source directly from local suppliers on a one-to-one basis, enabling these start-up food businesses to gain their first retail listings in stores in their community. SuperValu is also working with these producers to get their products listed in a cluster of nearby stores in order to set them on a long term path of sustainable growth.
Jobs in West Cork have been created in Jimmy Allen's DeRoiste, which produces black and white puddings in the heart of the Ballyvourney gaeltacht.
It has taken on five new staff members. Walter Ryan from Loughbeg Farm in Schull will hire seven new staff members this year alone, as a result of the Food Academy programme.