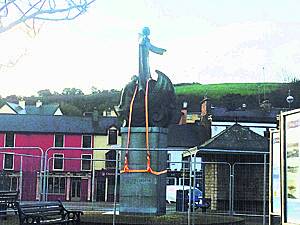 SAFETY concerns have led to the temporary removal of the iconic St Brendan statue from the Square in Bantry.
The statue, which was erected in 1969 to mark the opening of the Whiddy Oil Terminal, was increasingly unstable in recent times. As a result, and after examination, Cork County Council this week removed it for assessment.
Cllr Mary Hegarty (FG) confirmed that the statue would be replaced and secured within weeks, hopefully in plenty of time for the forthcoming tourist season. 'It is a tourist attraction in itself,' she said.
The bronze statue, by German-Irish sculptor Imogen Stuart, shows St Brendan the Navigator, looking out to sea, with arms outstretched.