The All-New Ford Kuga has been specifically created to combine elegant styling and tough capability, all driven by efficient Plug-in Hybrid power and Bandon Motors on the Clonakilty Road are now taking your orders.
It's Ford's first Plug-in Hybrid, boasting of all the latest technology and if you place your order with Bandon Motors before Jan 31st you can avail of savings of up to €1,500.
Utilizing the latest in technological development the all new Kuga offers cleaner, quieter and more economical ways to enjoy SUV driving.
Low carbon emissions
With low carbon emissions and enhanced fuel consumption, you can save your pocket and the environment.
The all new Ford Kuga's advanced Plug-in Hybrid technology combines a battery powered electric motor with a 2.5 litre Duratec petrol engine.
It has four electric vehicle EV modes and you can choose EV Now to run on power form the electric motor only.
Or choose EV Later to opt to run your car on the petrol engine.
If you wish to use a combination of battery powered and petrol engine you can choose EV Auto.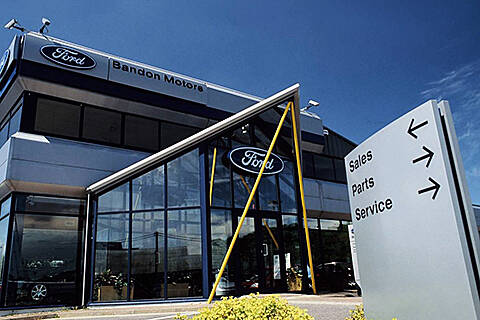 Bandon Motors on the Clonakilty Road, Bandon
Charging
To charge your all new Kuga as you drive choose EV Charge. This makes any journey, whether along the country roads or driving through traffic efficient and safe.
The all new Kuga Plug-in Hybrid can also be charged at home or at public charging points.
The beautifully designed car comes with clever assistance technology and design features as you would expect from any Ford vehicle.
Adaptive cruise control, six gears, rear parking assist, and retractable towing bar are standard. The handsfree boot opening makes shopping or packing luggage a breeze.
The superior design continues in the interior with lumbar supports on driver and passenger seats and armrests between seats in the rear.
Seven year warranty
Bandon Motors is renowned in West Cork for its Ford sales and after sales service. The all new Kuga Plug-in Hybrid comes with a seven-year warranty and seven-year roadside assistance.
Ford's one stop finance also offered at Bandon Motors provides flexible financing to suit your budget.
Not only that but if you order your all new Ford Kuga Plug-in Hybrid at Bandon Motors now they will give you a bonus of €1,500 off on all cars contracted prior to January 31, 2020.
PCP finance at 2.9% (PHEV) is also available.
See the full Ford range on www.bandonmotors.com or visit the showrooms on the Clonakilty Road, Bandon and place your order now.