Cllr Danny Collins who is originally from Lowertown, Schull and has been running the Boston Bar in Bantry for the past 21 years hopes to continue his work for the people of West Cork
Collins who was co-opted onto his brother, Michael Collins' seat three years ago when he was elected TD for Cork South West has always been vocal in his belief that the government needs to do more to support rural Ireland.
'Our government has been neglecting many issues throughout our region of West Cork for years,' Collins said in a recent conversation with The Southern Star.
'I try to highlight these and take them forward at council level and to my brother Michael Collins, as he brings them up in Dáil Éireann'.
Health
Your health is your wealth as the old saying goes and Collins feels that the government is not doing nearly enough in this department.
'We have waiting lists for up to years for an operation. Here in Bantry, we have a top of the range theatre which is idle.
'Surgeons should be brought to Bantry to carry out minor operations which would take some of the workload off CUH,' he says.
Danny has organised over 32 busses for local people to travel to the North for procedures such as cataract removals and joint replacements.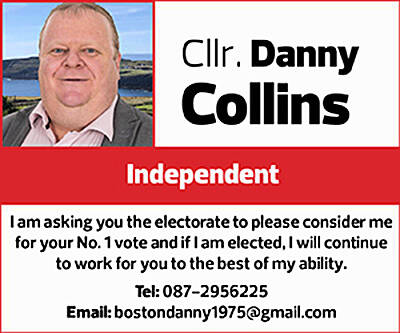 'Why are these procedures not being offered in the south?'
Danny says he has also called on the minister to open the A&E which is closed by night in Bantry and which serves three remote peninsulas.
Farming and Fishing Industries
Other areas Cllr Collins is passionate about are farming and fishing.
'Farming and fishing are the main industries in West Cork and each deserve a stand-alone Minister for Agriculture and another for Fishing and Marine.
'Our suckler and beef farmers are getting €100-150 less for their cattle compared to their counterparts in the north,' the publican said.
As for our fisherman, Danny finds it very wrong that 'they feel like foreigners in their own seas.'
Tourism
As a publican tourism is another industry Collins has a keen interest in.
'I was shocked by the 4.5% VAT increase for the sector. They're basing it on Dublin where they have twelve months of business. Down here in West Cork we have only four or five months.'
Collins understands that 'our hotels, restaurants and guest houses are struggling to keep their doors open and provide employment.'
His suggestion that there should have been a separate VAT increase for rural areas is something he pledges to push for if elected
Cllr Danny Collins is standing as an Independent candidate in the Local Elections on May 24 and he is asking for your number 1 vote.