Blackwater Motors Volkswagen Group is recruiting for their 'Junior Sales Executive Programme' which in seven years has seen over 50 Sales Executives complete the training.
The Blackwater Group is one of Ireland's largest car dealerships and according to Commercial Vehicle Specialist Adam Sheehan, who has been with the company for 6 years, it's Junior Sales Executive Programme has been hugely beneficial career-wise.
Career Progression
'Blackwater Motors are an extremely good company to work for, very helpful and always looking to help you progress in your career.
'From day one you can see a direct line to where you want to go and the company are on hand to guide you through,' noted Adam.
The programme which is in its 7th year has seen over 50 Sales Executives complete the training. An extensive in-house one year training period is provided, that covers all aspects of car sales and teaches the selling skills that enable trainees to become a professional Car Sales Executives.
Extensive Training
'As the programme is a year long, you're given the opportunity to learn on the job which helps as you can learn from your mistakes,' says Katie Hegarty, a Sales Executive who has been with the group for two-and-a-half years.
'With this Junior Sales programme you're constantly given opportunities to ask questions. I started off as a Showroom Host and thanks to the programme I'm now involved in finance, sales and customer services'.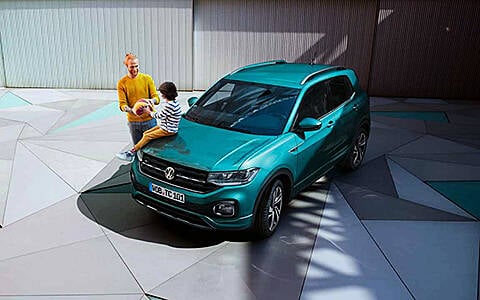 The newest model to the Volkswagen range, the all new T-Cross.
As well entering into a rewarding career, you will be joining the successful Blackwater Motors Volkswagen Team. Blackwater is one of the largest car dealerships in the country, operating from four locations and represents the prestigious Volkswagen, Volkswagen Commercial, Audi, SEAT and Skoda brands.
Premium Brand
Having the chance to represent and sell the VW brand is another bonus to joining the programme according to Adam.
'Selling Volkswagen is easy. It's the top brand out there. It's a premium brand which makes the job that much more enjoyable'.
These are sentiments that are echoed by Katie: 'The quality is there and Volkswagen are also a great company to deal with'.
Company Car
One of the other perks of working at Blackwater Motors is the company car according to Katie who drives a Golf.
'After a year of training you get a brand new demo car - big benefit,' smiles Katie.
The group which has been operating for just under 30 years now, employs over 200 employees across the 4 locations. The Blackwater Motors brand is an established brand across homes and businesses in Cork city and county.
Candidates who are interested in this training programme should be confident, friendly, ambitious and energetic.
The Blackwater Motor Group are currently recruiting for the Junior Sales Executive Programme. For more information visit https://www.blackwatermotors.ie/cork-motor-jobs