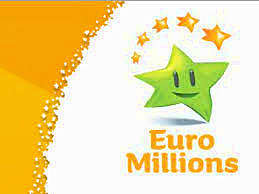 A LUCKY 27-year old young man from Skibbereen has had a very welcome return home to Ireland after working abroad for several months. Having flown back just last week, he bought a EuroMillions ticket for Friday's draw and won an amazing half a million euro.
The lucky man celebrated his win with his girlfriend at National Lottery offices today as he collected his€500,000 prize, which he won in Friday's EuroMillions Plus draw.
'I bought two tickets for the EuroMillions draw on Friday – I had a feeling I was going to win!' said the lucky Cork man who wishes to remain private. The winning ticket was a €9 Quick Pick, bought in Esso Service Station, Cork Road, Skibbereen on Friday 16 January 2015.
'I checked the ticket in the shop on Saturday on my way to work and was told to contact the National Lottery, so I went on the website to check the results. The numbers flashed up in front of me and I just couldn't believe it!' said the delighted young winner.
'We've been talking about getting a mortgage for so long, so it's amazing that we can now buy a house. It unbelievable!' he smiled.
A total of 15 EuroMillions Plus top prizes of €500,000 have been won by Co Cork players.
Tomorrow night's EuroMillions jackpot (Tuesday 20 January 2015) is an estimated €30m.