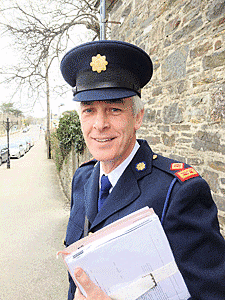 SUPT Colm O'Sullivan has been appointed as the regional officer at the new Risk, Compliance and Continuous Improvement Office in Cork.
Based at Anglesea St, he will oversee Garda reforms in the southern region, an area that covers Cork and Limerick cities, as well as the counties of Cork, Limerick and Kerry, and includes five garda divisions and 18 garda districts.
The initiative, which was recently launched by the Garda Commissioner, is one of six regional appointments that have been made nationwide and is designed to support regional garda management in improving the delivery of local policing services, delivering a community-focused policing service that seeks to prevent crime in the first instance. Where crime does occur, it aims ot investigate crime professionally and thoroughly. It will also be responsible for the victim support office, which was set up before Christmas.
No stranger to West Cork, Supt O'Sullivan said his father, Gerard O'Sullivan, had previously served in Ballineen and Drimoleague but served the last 13 years of his career, until his retirement in 1986, as the local sergeant in Clonakilty.
He said it was an honour for him to have been appointed as Supt in Clonakilty in July 2012 He has also worked with the Crime Task Force and the Divisional Drugs Squad in Anglesea Street.
Supt O'Sullivan was instrumental in obtaining public support for the installation of CCTV systems in Clonakilty and Skibbereen and, prior to his transfer, commenced the process for Dunmanway.