A YORKSHIRE terrier named Buddy is proving to be a tonic for the 27 residents at Skibbereen Community Hospital.
The animated chatter in the day room is an indication of the joy that Buddy brings.
'He is certainly a talking point,' said Tara O'Donovan, the clinical nurse manager, who had the great idea to give the orphaned puppy a home.
'He was hand-reared, which makes him perfect for here,' said Tara, who explained that Buddy's presence is Hiqa-approved because it is a residential centre for long-term care, and not a hospital.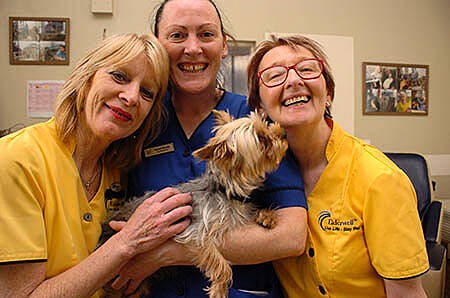 Buddy with his foster mum Carmel Murphy (centre) at Skibbereen Community Hospital, along with Bernadette Collins and Tonette Downing of Elderwell. (Photo: Anne Minihane)
Different patients respond differently: one elderly lady with dementia searches out 'the little dog' on a daily basis because she wants to make sure he is happy.
Derry, a gentleman of 72 years, has been in and out of various psychiatric institutions for decades. He said he remembers how awful they can be.
'This is the best ever,' Derry said of Skibbereen Community Hospital. 'Everything is good, and the staff are beautiful, like yourself.'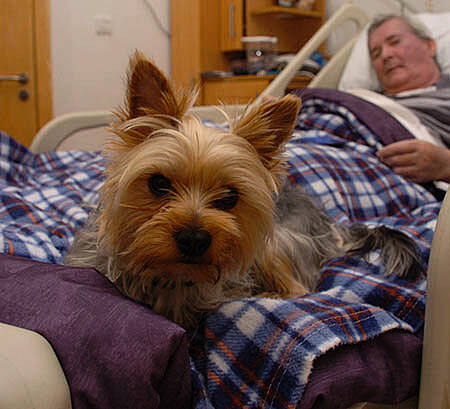 Buddy takes a breather at the end of Derry O'Leary's bed. (Photo: Anne Minihane)
With the support of Tonette Downing and Bernadette Collins of therapeutic recreational activity provider Elderwell, the residents have plenty of group and individual activities that bring variety, entertainment and stimulation into their lives.
Derry, who has a consistently smiling countenance and easy charm, believes hospitals, and the medication, have improved immeasurably in the last 25 years. But it is more than that, and the good grub, Derry said: 'It is the freedom.'
In another ward, Meda Shanahan is beautifully dressed and propped up in bed with magazines – featuring the upcoming royal wedding – and books strewn all over the covers.
'Hospitals before were too regimented,' she said. 'If you put a book on the bed they would be dusting it off.'
Meda's late husband, Sean, was at Skibbereen Community Hospital for six years and she said: 'He couldn't have been treated better.'
Last year – 24 hours into a holiday in Majorca – Meda (81) had a fall and broke her leg. She had no qualms whatsoever about getting her papers for Skibbereen Community Hospital.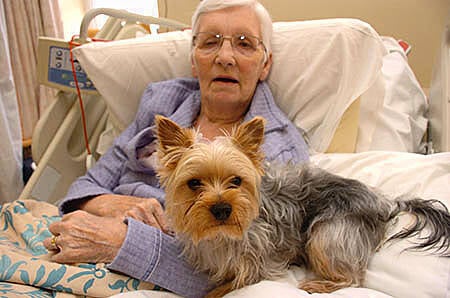 Buddy with Meda Shanahan from Kilcrohane. (Photo: Anne Minihane)
'It is like home. The food is marvellous. But what I really like is the security. You don't have to worry if – in the middle of the night – you have a pain or an ache.'
Her brother asked her once: 'How do you fill the day?' Meda said: 'I told him we don't have time to bless ourselves!'
Meda reads a lot, does puzzles, and spends time on her computer. But it is Buddy – his little heartbeat when he is curled up on her bed, or the sound his little paws make as he crosses the well-polished floor – that gives a real lift to her day.
'Buddy is great, friendly, an asset to the place. I'd like it if he would stay with me, but we have to share him,' Meda says with a smile.
Meda was Ireland's first lady bus driver. She did the school run in Kilcrohane – 72 children in a bus with no seat belts, and 'not one accident, thank God.'
Meda shares a room with Angela Hickey.
Angela (57) – who has mobility issues following a stroke – is like Meda in that she always has a biro and a crossword at the ready.
Angela wants her mobility back but admits that staying in hospital 'isn't too bad.'
'They are fantastic,' she says of the staff. 'And Meda is good company. She has a great sense of humour and we get on.'
What makes it homelier, of course, is Buddy. 'We had a dog when I was young and when he died I was heart-broken,' said Angela.
'When I saw Buddy first I thought he wouldn't be allowed stay, but he was, and he's been great company.
'For years, I said I'd get a dog when I retired because they are such great company.'
With a laugh, Angela picks up Buddy and says: 'This is my starter dog.'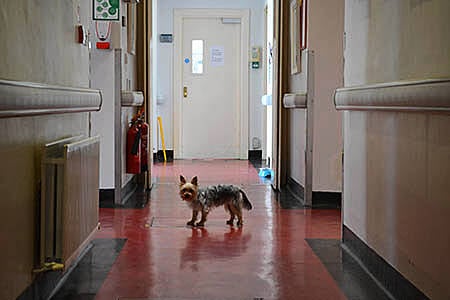 Buddy taking a tour around 'his' community hospital. (Photo: Anne Minihane)