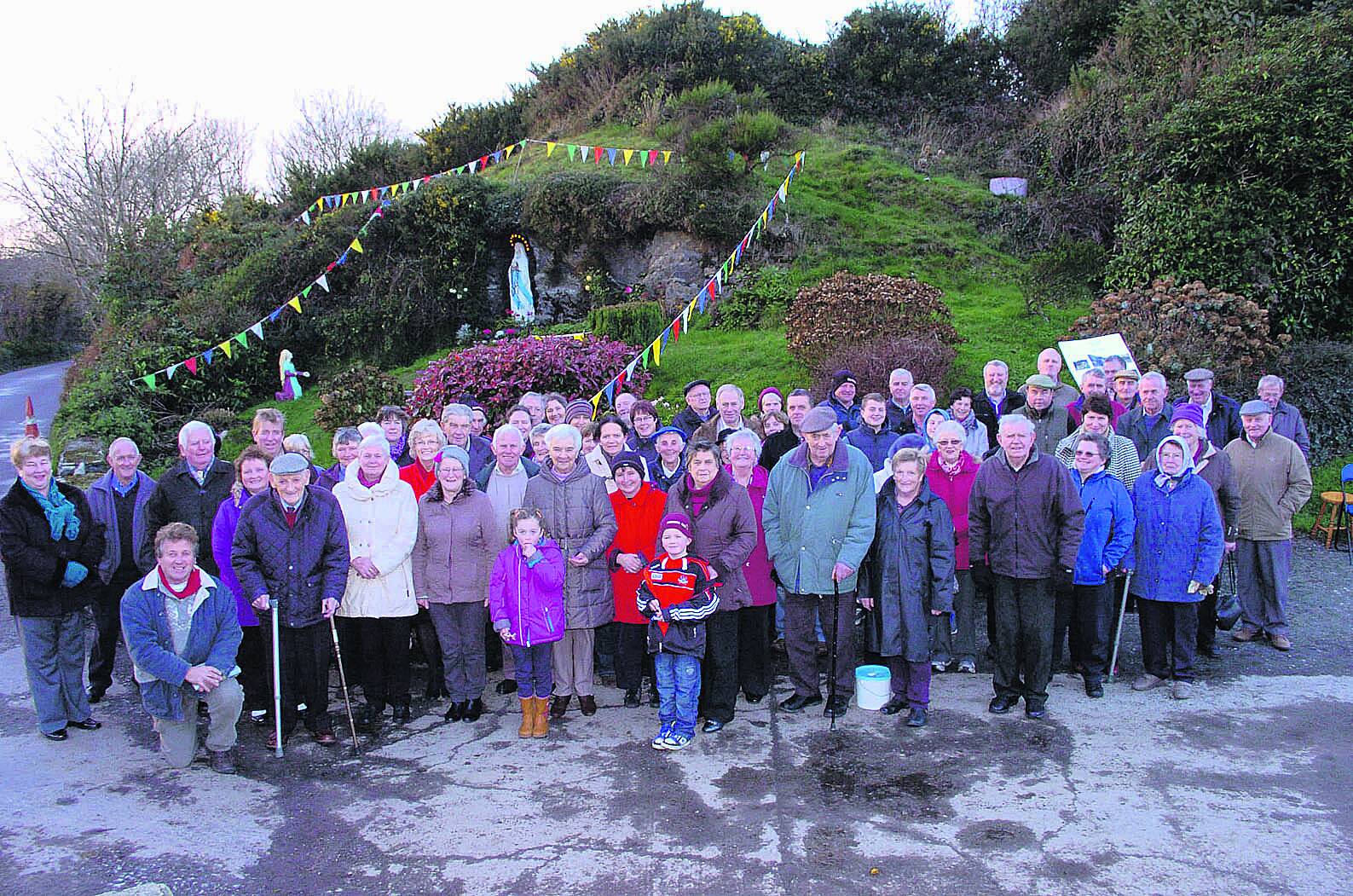 BY BERNARD O'CALLAGHAN
TO commemorate the 60th anniversary of the construction and dedication of the grotto at Lake Cross, Skibbereen, a memorial mass was celebrated by Rev Fr Gerard Thornton, PP, in St Barrahane's Church on November 30th.
Deceased members of the original committee who carried out the work were remembered. A display of photographs and newspaper accounts covering the past six decades proved to be of great interest to the many who viewed them.
On Sunday, December 7th, the eve of the Feast of the Immaculate Conception, a huge attendance assembled at the grotto to recite the rosary, following which Rev Fr Brendan Hanley, SMA, blessed the newly-erected plaque in the grounds of the grotto. The wording on the plaque reads: 'Dedicated to the local people who erected this Grotto in the Marian Year 1954. Unveiled 5-7-2014.'
On December 5th, 1954 the grotto was officially blessed and dedicated by Bishop Cornelius Lucey, who also celebrated mass at the opening. Though the weather was said to have been terrible, a huge crowd was present for the occasion.
The site of the grotto was often used as a meeting place. It was here that the plan for the construction of a grotto was hatched in early 1954, the Marian Year. The grotto was to be a replica of the grotto of Lourdes.
Over 40 people gave freely of their time. It proved to be a major undertaking as all the work was done by hand using picks, crowbars, sledges and wedges. Much of the work was undertaken in the evenings and weekends.
Eventually the rock yielded to the men's efforts and, by Autumn 1954, a perfect site was created to receive the statues. The statues were purchased in Neff's in Cork city for a sum of €123-10-6, which in today's money is approximately €3,000.
Today, a dedicated local committee maintains and cares for the grotto and keeps it in perfect condition. The grotto is floodlit at night, which enhances its aspect.
It provides an ideal oasis for both locals and visitors for quiet reflection and prayer. Rosary is recited annually there on August 15th and December 8th.