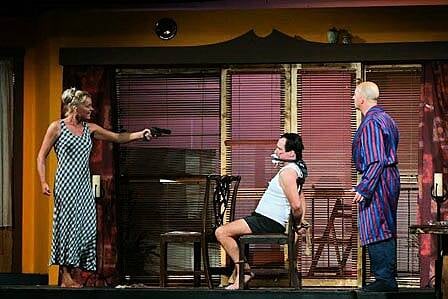 KILMEEN Drama Group are bringing their award-winning production of Death and the Maiden to The Everyman in Cork on Monday next, 27th, for one night only.
This explosive moral thriller, written by Aerial Dorfman and directed by Donie Walsh, enjoyed some deal of success on the amateur drama festival circuit in March, where they won a number of awards for the production, including Best Set, Best Dramatic Scene and we first place at the West Clare Drama Festival in Doonbeg, Co Clare.
In addition, Sharon Mawe McCarthy was awarded Best Actress four times during the group's festival run for her uncompromising and powerful portrayal of the play's protagonist, Paulina Salas. Michael Crowley also won a Best Actor award.
Kilmeen played to packed-out audiences during the eight festivals they visited this season throughout the country and the audience reaction to this play has been overwhelming. Aside from comments on the production values and the performances by the actors, audiences have also left reflecting on the moral content of the play.
As a drama group, there is no better endorsement of a production then having an audience take aspects of what they have seen home with them to ponder. Producing Death and the Maiden has been a labour of love for everyone in Kilmeen who was involved in it.
It was unique, in that it was the first time that this play had been entered on the drama festival circuit. Tickets for Monday night's performance at The Everyman in Cork may be booked through the theatre's box office.