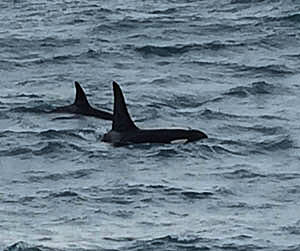 TWO 'killer whales' were spotted off the coast of Baltimore last week.
The whales, observed by an experienced wildlife watcher, may have been part of a bigger pod in the area at the time.
Despite their name, the 'killer' or 'orca' whales, have never killed a human in the wild, says local wildlife expert Nic Slocum.
'The name came from when they were first observed hunting in packs and attacking the larger whale species,' he adds.
They are not common in Irish waters, but they are still seen up to four times a year, predominantly along the west coast. 'In West Cork if we see them once a year, we think that is good, but they tend to stay further offshore when they come around the Mizen,' Nic points out. 'Last time they were off Baltimore was three years ago when we encountered a group of three east of the Gascanane Sound. The animals we encounter are so-called 'transients' – they are moving around the coast, feeding predominantly on seals and small cetaceans. Geographically-constrained groups are known as residents but there are none operating around Ireland.'
Wildlife watcher Kieran Collins reported the sighting to Baltimore Whale and Dolphin Watch when he was about 11 miles south of Baltimore harbour.