GARDA Commissioner Nirn O'Sullivan returned to her beloved West Cork last weekend as the guest of honour at the Coliste Pobail Bheanntra student awards night.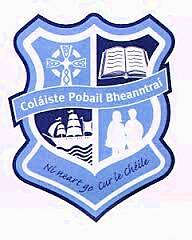 By BRIAN MOORE
GARDA Commissioner Nóirín O'Sullivan returned to her beloved West Cork last weekend as the guest of honour at the Coláiste Pobail Bheanntraí student awards night.
Joining the pupils, staff and proud family members for the gala evening to celebrate and recognise the students' achievements, the Garda Commissioner said she was honoured to be asked to attend the very special event.
Ms O'Sullivan, although born in Dublin, has been going to Glengarriff since the age of three, and spending most of her summers there.
It was a packed evening of awards for accomplishment and success in academic, cultural, entrepreneurial, sporting and social activities, with the students also entertaining all those present with music and dance.
'The annual awards night is one of the highlights of the year as it gives our school community, and the wider community, an opportunity to recognise and reflect upon our students' diverse range of academic, sporting and extra-curricular accomplishments,' said principal Dr Kevin Healy.
The highlight of the evening was the much-anticipated presentation of the Malli Scholarship and the Rowa/Matt Kingston Memorial Award. The Malli Scholarship is awarded for excellence in both the Leaving and Junior Certificates. This year the award went to Tim Cronin for his Leaving Cert results and to Ciara O'Flaherty for her excellent Junior Cert results.
The Rowa/Matt Kingston Memorial Award went to Owen O'Flynn.
'I would like to congratulate each and every student who received an award this evening and to express my gratitude to all of those who help to make this evening such a special occasion and to extend our sincerest thanks to our guest of honour, Garda Commissioner, Nóirín O'Sullivan,' Dr Healy continued. 'Coláiste Pobail Bheanntraí has a sporting tradition second to none and there plenty of awards to go around.
'We are very proud of our sporting achievements and of our pupils who have brought honour to, not only their school, but clubs and community as well,' he added.
There were plenty extra awards announced on the night, with individual class awards for each year group as well as awards for full attendance.
'The students and their parents should be very proud of their achievements, as are the teachers and staff,' said the principal.