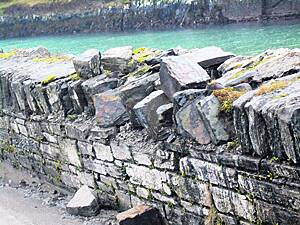 BY JACKIE KEOGH
CAPE Clear islanders have described as 'idiotic' claims that a €1m project to rectify a dangerous pier would affect nearby seal colonies.
The islanders have said it's 'a pure outrage' that Cork County Council has requested further information in relation to a Department of Marine application to upgrade Duffy's Pier.
The locals maintain the planning application – which was submitted in December – is being held up because of claims that pile driving would affect seal colonies located on Carthy's Island and Calf Island, both of which are over two miles from Cape Clear's North Harbour.
Speaking on behalf of the Cailín Óir Ferry Service to Cape Clear, Séamus Ó Drisceoil told The Southern Star that Duffy's Pier – the portion of the pier closest to land – has never been upgraded since it was built in the 1840s and was not included in the €4-€5m project that is currently being carried out to upgrade the Bull's Nose and outer part of Duffy's Pier before two storm gates – designed to protect the North Harbour during stormy weather – are installed.
Duffy's Pier was, however, badly damaged in the storm of January 6th 2014 and the Department of Marine sought and was granted additional money – in the region of €1m – to upgrade it because pieces of it are falling into the sea.
According to Mr Ó Drisceoil, photographs clearly show the pier is crumbling and could pose a serious risk to the 10,000 visitors to the island during the summer months.
'The planning application was submitted by consultant engineers on behalf of the Department of Marine with a view to having the work carried out in April, May or June, and members of the community are very anxious to see the planning application expedited so that the work can be done before the summer.'
It was Cork County Council's own planning department that requested more information from the department. A senior staff officer with Cork County Council wrote: 'The proposed works would require pile driving which would cause subtidal noise, and which is known to have the potential to cause significant behavioural disturbance to marine mammals at distances of several kilometres.'
Mr Ó Drisceoil said: 'Islanders are outraged at the fact that something which poses a real risk to human beings will be allowed to exist for longer than necessary because of a near mythical risk to seals over two miles away.
'We are, however, appreciative of the work done by the Department of the Marine and the contractors on the other portion of the pier and we hope this situation will be resolved sooner rather than later.'
Mr Ó Drisceoil, who was clearly very angry about the situation, said: 'It is almost beyond belief that something so far-fetched was actually issued by a planning authority. The problem with esoteric concerns is that they are very difficult to resolve. It is often much harder to resolve a senseless question than a legitimate one.'