WE are thrilled to put the spotlight on three of West Cork's finest farmers this week.
They are our Young Farmer of the Year, Denise Twomey from Upton; Drystock Farmer of the Year, Clive Buttimer from Ballinascarthy and Dairy Farmer of the Year, Tom Griffin from Timoleague.
All three were nominated in fiercely competitive categories, but all impressed our judges in various ways including work practices, innovations, focus on sustainability and proven results, to take the top titles.
This is the seventh year of our West Cork Farming Awards and we were heartened as always by the vol- ume and quality of nominations that came in after we put out the call for entries during the summer. Every farmer who entered or was nominated deserves recognition for the work they do 365 days a year, work that supports countless others in the region.
It's an uncertain time for the sector between Cap negotiations and climate targets, but what's certain is the ambition, dedication and drive of West Cork farmers.
Member of the judging panel Tom Curran, regional manager Teagasc Cork West said what stood out among the young farmer finalists in particular, was their enthusiasm. 'They also showed a great technical knowledge of the business,' he said.
'In the dry stock category, there was great variety in the systems of beef production, but each farmer was doing an excellent job in producing quality beef in a sustainable manner. To choose a winner was very difficult and we based it very much on the output of beef per livestock unit which is a good measure across all systems of beef production,' he said.
And for the dairy section he said the three finalists were all top performers 'which was great for the com- petition.'
'It came down to KPIs, especially kilos of milk solids output per cow and per hectare, in a sustainable way.'
DAIRY FARMER OF THE YEAR | Sponsored by AIB

GROWING up in West Cork meant being immersed in the area's rich dairy farm history and heritage. And that's why winning the title of Dairy Farmer of the Year means so much to Timoleague's Tom Griffin.
'It's really nice to have your name attached to that heritage,' he said. But he's quick to point out that he's only as good as the service providers he's lucky enough to work with: 'I'm only one cog in the whole process. There's a whole lot of people working in unison to make things happen from the vet, to the silage contractors and more. I'm really dependant on their skill and dedication so I can do my work, not forgetting of course my family and especially my wife Laura.'
Tom has a herd of 200, and a block of 78 hectares and keeps an open mind on how to run his enterprise, even if that means sometimes shunning conventional advice to try a new approach.
'Farming is about a lifetime of learning. We'll never know it all and it's so important to realise that,' he said.
He also puts a big emphasis on a farm's spirit, as opposed to just metrics: 'Metrics certainly give a snapshot in time; but it's the overall spirit of the farm which will take it forward.'
Taking the Dairy Farmer of the Year title is definitely an honour, he said, particularly given the calibre of the finalists.
'The farm is always busy but as we're heading into a particularly busy period, the timing of the award is nice.'
RUNNERS-UP
Aidan O'Donovan, Drimoleague & James Hurley, Ballineen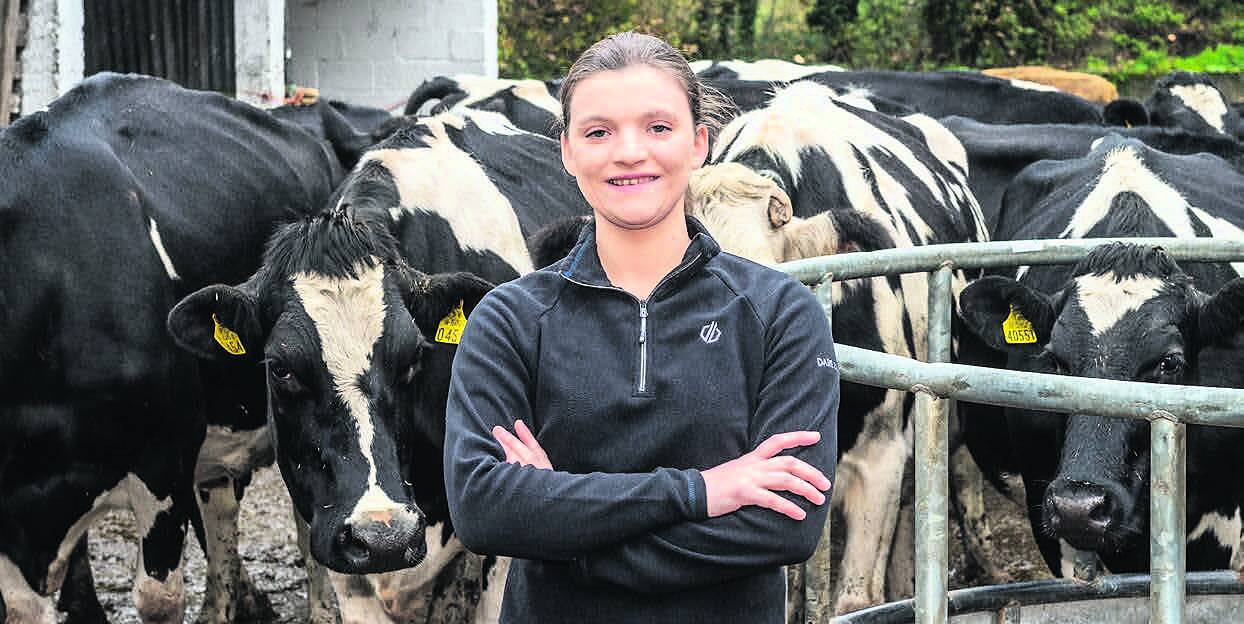 A GREAT achievement and brilliant motivation going forward into 2022. That was the delighted reaction of Denise Twomey who is our Young Farmer of the Year winner.
Considering Denise is just finishing up her first year farming in partnership with dad Denis, it's an even greater achievement for the 23-year-old.
'I was up against two great lads in the category and it really could have been any of us. But starting out on my farming career this is brilliant recognition to get,' said the dairy farmer. Denise is in the middle of a major infrastructural farm project and is facing into a very busy period – and she's relishing it. She is currently setting up a new dairy farm consisting of a 12-unit milking parlour, silage slab, slurry tank and cubicles.
'The cows are after slowing down, half of them are dried off, but the building work is going at full speed! It needs to be done by the end of January, in time for calving. That's non-negotiable – I wish the cows would hold off for a month but I don't think that's an option!'
She said there won't be much of a Christmas break for her this year, not that the she's complaining as she loves her work.
The farm has always been a dairy and beef enterprise comprising 23 milking cows and 40 bullocks on 96 acres which includes a recent land purchase by Denise which she said 'was a necessary investment, to allow for expansion.'
'I plan to milk 50 cows next year, but the facilities we're putting in place will comfortably cater for up to 100 cows,' she said.
RUNNERS-UP
Cathal O'Donovan, Timoleague & Tim Crowley, Ovens
DRYSTOCK FARMER OF THE YEAR | Sponsored by Bank of Ireland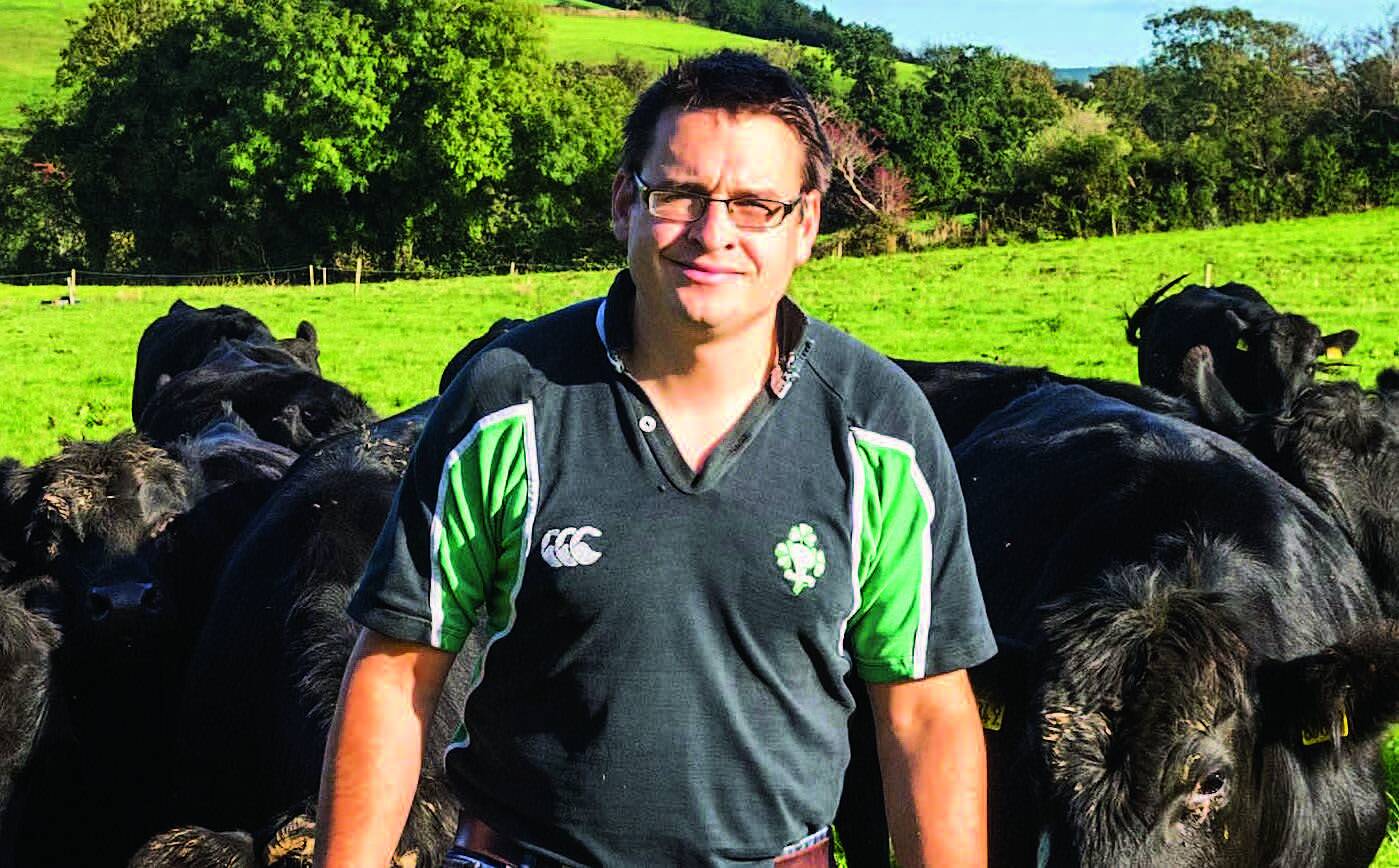 A BALLINASCARTHY beef farmer who is passionate about producing a quality product in a sustainable way is our Drystock Farmer of the Year.
Clive Buttimer, who exudes enthusiasm for his work on his mixed tillage and dry stock enterprise, said he was honoured to have been nominated for the award, and privileged to win it.
'A lot of the time with farming, due to the nature of the work, you're doing your own thing, and finding the best way of doing things for your own farm. So to be recognised, and to get validation, by experts in the field, feels really great,' he said.
Working with his dad Victor they finish around 600 animals a year, predominant- ly Angus and Herefords, and also grow winter and spring barley, spring wheat and sugar-beet on their 185 acre farm.
'The idea is to be 100% self sufficient ourselves,' said Clive , who was one of the Origin Green finalists in 2018.
He has also just launched a new venture called Clonakilty Beef, selling a selection of meat boxes directly to the public.
There were two reasons for the diversification, he explains: 'The motivation was to make the family farm financially sustainable, so we wouldn't have to be running faster to stand still.
But we also wanted to put the story of our beef out there, as I think there can be a lot of misinformation surround- ing the product, even among my peers.'
RUNNERS-UP
Brennus Voarino, Cape Clear, James O'Sullivan, Leap & Aidan Coughlan, Ballydehob
Trophy presentation ceremony to be filmed for all to enjoy
UNFORTUNATELY plans for a gala awards lunch, on this the seventh year of the awards run by The Southern Star in conjunction with the Celtic Ross Hotel, have had to be cancelled due to the uncertainty of the current Covid situation.
However, even though we have cancelled the gala lunch awards celebra- tion we think it's still important to have the opportunity to present all of this year's winners with their trophies and certificates and for us to acknowledge their achievements.
With that in mind, next Friday, December 10th we will hold an awards presentation ceremony at The Celtic Ross Hotel with just the category winners and a representative from our sponsors in attendance along with our judges.
We will film the trophy presentations and then publish the proceedings via our social media and www.southernstar.ie in the following days for a wider audience to enjoy.
Then, in The Southern Star on Thursday, December 16th we will publish photographs from the trophy presentation event to conclude a successful 2021 West Cork Farming Awards for another year.
Judges for the West Cork Farming Awards 2021 are:
Tom Curran, regional manager, Teagasc West Cork, Caroline Murphy, owner, West Cork Eggs, JJ Walsh, business advisor. • John Buckley, dairy farmer. Chairman of judging panel is Sean Mahon, managing director, The Southern Star.