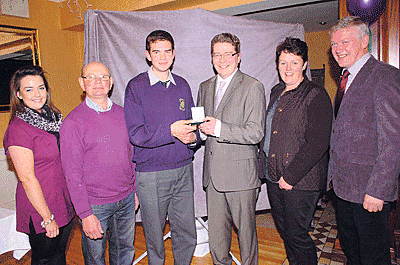 A VERY enjoyable ceremony was held in the West Cork Hotel on Friday evening, 6th March.
The teachers gave citations on all of the awards and they were presented to the students by principal David Barry and Fachtna Whooley, board of management chairperson, President PPU and other invited guests.
Students played music at the beginning of the awards and at the end, Gerald O'Brien spoke about the role of the PPU.
THE AWARDS
Football Tom Bushe, Stephen Leonard, Ronan Walsh, Eoin O'Driscoll and Matthew Bushe.
Junior: Aaron O'Sullivan
Intermediate: Sean Fitzgerald
Joe O'Neill Medallion for Senior Footballer of the Year 2015: Alex Hassett
Soccer
Irish International U18 Soccer Team: Denzil Fernandes
West Cork Schoolboys League Development Squad - Under 14: Dylan Murray, Alex Minihane and Paddy Burke
Rugby
Munster under 18 clubs: David McCarthy
Munster regional development squad: Rory Byrne, Joseph Hickey
Rowing: James Davis
Athletics: Dylan Williams-O'Connor
Kickboxing: David Slaney
Karate: James O'Sullivan
Ian Daly perpetual sports achievement award: Tom Bushe, for his overall contribution to Sport in the school
Academic awards: Tadhg McCarthy, Patrick O'Brien, Daniel O'Mahony, James O'Sullivan and Daniel O'Sullivan.
Best results in Junior Cert 2014 (Patrick C & Aileen F O'Leary medallion):
Kevin P O'Donovan, Kevin T O'Donovan, Darren Seymour
Best results in Leaving Cert 2014: Francis Collins, Matthew Fitzgerald, Matthew Ryan
Best LCVP portfolio 2014: Neil Bohane.
Gradam na Gaeilge:
Ciarán Ó Donnabháin
Scholarships: Matthew Fitzgerald.
Tom Forde Perpetual Award for Business Studies: Stephen Finn
Best Technical Project Junior & Leaving Cert: Darren Seymour & Sean Kelly
Brian Daly Perpetual Award - TY 2014: David Murphy
Mini company: Thomas Connolly, Jack Harding, Ryan Herlihy, Daniel McCarthy, Kevin T O'Donovan
School mentors: Gavin Barnett, Patrick Bohane, Sergiy Bondarenko, Eoin Glynn, Jack Hosford, Dylan McCarthy, David Murphy, Dylan Williams-O'Connor, Timmy O'Donovan, Eoin Quinn, Ciarán O'Sullivan, Donnchadh O'Mahony, Luke Reed-Harte, Donnacha Whooley
Amber flag project team: Gavin Barnett, Eoin Glynn, Joe Lynch, Dylan McCarthy ,
Ruairi Harnedy, Darragh Sheehy, Timmy O'Donovan, Donnchadh O'Mahony, Tim Cotter, Ryan Herlihy, Ronan McCarthy, Johnny Mulhern Luke Murray, Kevin T O'Donovan, Colin O'Driscoll, Eoin Quinn, Dylan Williams-O'Connor
Student Council: Olan Crowley, Javier Pernas O'Shea, Adam Farragher, Eoghan O'Neill, James Davis, Matthew Limrick, Johnny Mulhern, Oscar Egan, Patrick Bohane, Eoin Quinn, Niall Seymour, Jack O'Driscoll.
Pramerica awards: Michael Keohane, Shane O'Neill
Aurelia trust awards: Michael Keohane, Niall Seymour, Shane O'Neill, Jack O'Driscoll, Jack Connolly, David Daly, Cillian Collins, Seamus O'Driscoll.
School attendance: Diarmuid O'Neill
Music: Cormac O'Driscoll, Ciarán O'Donovan
Film making club: Dean Geaney
Student of the Year 2014/2015 (JL O'Keeffe Medallion): Shane O'Neill