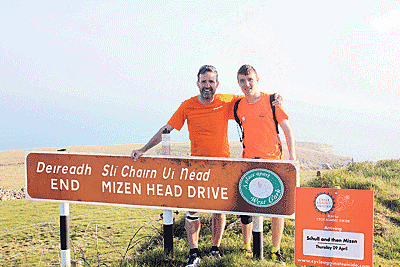 WHEN athlete Jim Breen arrived in West Cork last week, he found huge support from locals along his route.
Jim Breen has been running 50km a day (31 miles) for the last three weeks. In total he will run 1,400km over 28 days.
He is running the Cycle against Suicide route in reverse and will finish on April 26th.
The Cycle Against Suicide then starts on April 27th and will involve between 7,000 and 10,000 cyclists over a fortnight.
One supporter, Dylan O'Connor, a 17-year-old student at St Fachtna's in Skibbereen, joined Jim in the extraordinary achievement of running 50k from Skibbereen to Mizen Head.
Jim was in West Cork to promote the forthcoming Cycle Against Suicide campaign. He was joined by Dylan, who is a middle distance athlete and a member of Bandon Athletics Club.
Dylan has recently set up an athletics club in his school and has received an award for his achievements.
He recently came first in the under 19 section of the Ballydehob 10k Road Race came 4th in the adults section.
The 50k run was a huge achievement for Dylan, whose longest run to date has been 18k, and he has never run a marathon.
Dylan said he knew he could do it on he morning he signed up. He did find the slow pace very tough, as he is used to running faster.
He ran alongside Jim Breen all the way and they formed quite a bond in their shared determination.
'If Jim has to run 20 marathons in a row, then I can at least do one,' said Dylan.
Jim said he was very impressed with Dylan's run, as it is very rare that a person of this age runs this distance.
Dylan is the first teenager to run from Skibbereen to Mizen Head, and the only other runner that day to run with Jim Breen, for a full-distance leg.
The duo set out from Skibbereen at 10am and arrived at Mizen at 6:15pm.
The Cycle Against Suicide founder said he was 'blown away' by the phenomenal response from the schools involved in the cycle in this, the third year of the event.
The cycle starts in Belfast on Monday April 27th before finishing in Dublin on May 10th.
Cycle Against Suicide offers a Homestay programme, which sees homeowners across the island providing a bed and hot meal to participants in the cycle.
If you would like to provide Homestay accommodation when Cycle Against Suicide visits Bantry or Skibbereen, send an email to [email protected]
To volunteer with Cycle Against Suicide, send an email to [email protected]
Cycle Against Suicide was founded by Irish entrepreneur Jim Breen who appeared on RTÉ'S documentary, The Secret Millionaire.
The programme inspired Jim to continue to use his skills and influences to help raise awareness of mental health in Ireland and signpost people in need, to the considerable supports available for suicide prevention in Ireland. See cycleforsuicide.com