Southern Star June 6 2015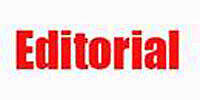 IT is somewhat bizarre that parliamentary privilege granted under Bunreacht na hÉireann should have found itself subverted over the weekend by a temporary court injunction, thereby threatening free speech which is one of the cornerstones of our democracy. As he stated on Tuesday, High Court Judge Donald Binchy, who granted the injunction a fortnight ago to billionaire businessman Denis O'Brien against RTÉ, preventing it from broadcasting information about the plaintiff's banking arrangements with the State-owned Irish Bank Resolution Corporation (IBRC), now in special liquidation, did not intend his decision to have such a far-reaching consequence, but it had the temporary knock-on effect of, effectively, gagging most other mainstream media outlets too, who feared expensive litigation if they published what was stated in the Dáil last week by independent TD for Kildare North, Catherine Murphy.
It was something that needed to be defended against vigorously and, while RTÉ and The Irish Times went into the courts this week seeking clarification about publishing Ms Murphy's comments made under privilege – as the media should be freely entitled to do anyway under Article 15.12 of the Constitution – such a defence should have been mounted and led primarily by the government on behalf of the Houses of the Oireachtas because they were being gagged too if their words could not be fully reported by the media.
The Article in question clearly states: 'All official reports and publications of the Oireachtas or of either House thereof and utterances made in either House wherever published shall be privileged.' This gives TDs and Senators immunity from prosecution under our rather strict defamation laws or from libel actions that could arise from any such statements they may make under privilege and this is also meant to do likewise for the media giving fair, accurate and contemporaneous reports of such utterances.
However, the past week's unprecedented scenario muddied the waters for a while and the government's refusal to entertain opposition parties' exhortations to recall the Dáil during its current break – which is due to continue until June 9th – for the purposes of re-asserting the basic principle of absolute privilege is disappointing to say the least. One would get the impression from this refusal, and the deafening silence of the Taoiseach Enda Kenny in particular, that the government was not as concerned about this very serious matter as it should be.
Using Dáil privilege to put information of public interest and concern into the public domain is rarely used and usually only in exceptional circumstances. Standing orders forbid utterances of a defamatory nature, classing them as an abuse of privilege and, in fairness to our politicians, in the main, they do not abuse it.
Reasonable people do not want to see it used or abused for purely political motives, as happened recently with Sinn Féin TD Mary Lou McDonald. Even though she does not agree with them, Ms McDonnell was found by the Committee on Procedure and Privileges to have abused parliamentary privilege by naming alleged tax offenders in the Dáil; however, the CPP was toothless when it came to imposing any sort of effective sanction and this is something else that needs to be addressed now too.
Catherine Murphy has been praised by many, but vilified by others for putting information she believes to be accurate and from a trustworthy source into the public record, but Denis O'Brien and IBRC claim that it is false and that, because of this, she has abused Dáil privilege. However, Ms Murphy has reacted to such accusations by saying that 'the people that continue to accuse me of falsehoods refuse to provide evidence to refute any of the issues I've questioned in the Dáil.'
The matters referred to are certainly of public interest, but obviously their veracity needs to be established beyond doubt as it is one person's word against another. While the courts may yet hear further submissions about the matters in question, the basic principle that Dáil speeches and the reporting of them are protected by absolute privilege under Article 15 of the Constitution needs to be robustly re-asserted by Taoiseach Enda Kenny, who has shown a lack of leadership in this regard.
Our politicians should not be afraid to stand up for this basic principle and, when the Dáil resumes next Tuesday, the Government Chief Whip needs to urgently liaise with his opposition counterparts to organise a comprehensive debate on the matter in which participants should not be afraid to speak their minds about the upholding of free speech – tempered only by the caveat that with freedom comes responsibility.