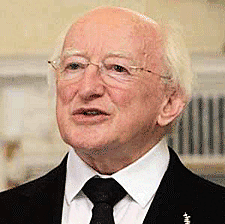 BY JACKIE KEOGH
WEST Cork will welcome President Michael D Higgins next week, when he visits the area to perform a number of official duties.
President Higgins, accompanied by his wife Sabina, will firstly visit Cape Clear Island on Wednesday, June 10th.
Arriving by helicopter at 2.30pm, the presidential party will first visit the Island Heritage Centre, and then meet the Irish college students, before attending a gathering at Club Cléire, where he will meet members of the community.
The presidential party will be entertained by the musicians and dancers of Scoil Náisiunta Inis Chléire, who have composed a piece in his honour, and the dignitaries will return to the mainland by the island ferry at 4.30pm.
Island representative Séamus O Drisceoil told The Southern Star: 'Cape Clear has hosted a number of presidential visits, including Éamon De Valera, Cearbhall Ó Dalaigh and Mary MacAleese, and islanders are very much looking forward to this event.'
On Thursday June 11th, President Higgins' will be marking the 20th anniversary of Clonakilty Gaelscoil at 11am and in the afternoon he will visit Skibbereen at 2.30pm to officially open the West Cork Arts Centre. 'This is a great occasion for West Cork Arts Centre and Skibbereen celebrating the opening of the new building,' said arts centre director Ann Davoren.
The President will meet dancers at the UCC & Bollinger Family space in the Centre, speak with the artists in their residency studios, view the exhibitions of artists Cormac Boydell, John Kingerlee, Karen Hendy, Kate Standen in The James O'Driscoll Gallery and Tess Leak's solo exhibition in Gallery II.
In the afternoon, at 4pm, President Higgins will unveil the new Centenary Memorial to Jeremiah O'Donovan Rossa at the memorial park beside the GAA grounds.
The St Fachtna's Silver Band and Comhaltas Ceoltoiri Eireann will be in attendance at the ceremony which marks the 100th anniversary of the death of the Fenian patriot.
The Polish ambassador, Ryszard Sarkowicz, is also coming to Skibbereen on Thursday and will be attending the centenary celebrations at the memorial park. Mr Sarkowicz will be in attendance as a mark of respect for O'Donovan Rossa's support of the 1863 Polish uprising.