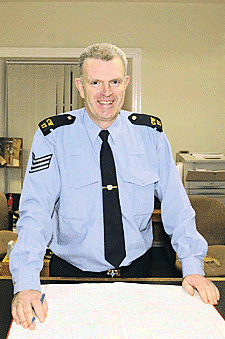 By JACKIE KEOGH
THERE is one garda sergeant who seems to typify the best in community policing and that is Sgt Fachtna O'Donovan, a Skibbereen native who made Beara his home.
News of his recent retirement at the age of 54 had people asking: 'What will you do with your time?' But as the father of six children, ranging in ages from 15 to 5, he and his equally calm, effective and connected wife, Helen, a nurse in the local hospital, have more than enough on their plate.
'I'm following my instincts. I have been a policeman since I was 19 years old, so whatever time the man above gives me I feel there are other things I can do with my life that I didn't do for the last 34 years,' said Fachtna. 'Not golf,' he adds, grinning.
'I have a great interest in local history and I think there is a lot more to be done on that side of things, like showing visitors the rich heritage of the Beara Peninsula, especially now that the Wild Atlantic Way has been so successful.
'I am a blow-in here. We all are. It's common to all of West Cork. People blow-in for different reasons but most are drawn to the Beara Peninsula for the way it is, its natural state.'
Fachtna spent the first 12 years of his career in Dublin's south inner city and some of his time in Cork city. But it was when he came to Beara that he said he felt 'at home.'
By his own admission, Fachtna is not a GAA man. 'It is a handicap around here,' he said with a laugh, but is quick to point out that his colleagues more than made up for his shortcomings.
There were 11 in the O'Donovan household at Lisheen outside Skibbereen, and 10 in Helen's. So having six of their own is child's play. Although when Finbarr, Catherine, Maria, Fiona, Eva and Roisin come home from school, Fachtna said: 'It is bedlam.'
There should, in fact, be seven noisy children running around the house. Roisin's twin sister, Úna, died seven days after she was born and is remembered daily in the O'Donovan household. A photograph of Úna and her sister takes pride of place above the dining room table in the centre of the family home.
'I suppose I could wait until there were reared before I retired but by then I would be an old man. Besides, I didn't retire just to have a nicer life. There was a lot of pressure at work too. Like most places, the paperwork has taken over.'
In Beara, he says, 'everybody knows everybody. Overall that is a very good thing. It means there is a great sense of community. We are all thrown out here, perched here, at the end of the peninsula breathing the same air as the dinosaurs and we will all end up here, pushing up daisies together.'
Looking back on his career, Fachtna said: 'It has been a great adventure, there has been a lot of variety to the job. And, in a way, I am sad to be leaving, especially as Judge James McNulty said on my last day in court, "Just as you were getting the hang of it".
In an area that has known a lot of tragedies, Fachtna said: 'It is good to know that you were able to be there for people to offer whatever support you can. What we do in the Garda Siochana is a service. We contribute to the community. It's like the quote by Michael Staines, the first commissioner of the gardai: 'The Garda Siochana will succeed not by force of arms or numbers but by the moral authority, as servants of the people.'
Colleagues and friends, old and new, all turned up to The Berehaven Lodge recently to celebrate his career and his retirement, and to wish him all the happiness in the world.