Bantry-based shoe company Shoeniversity have been named as finalists in the new National Tourism Industry Awards.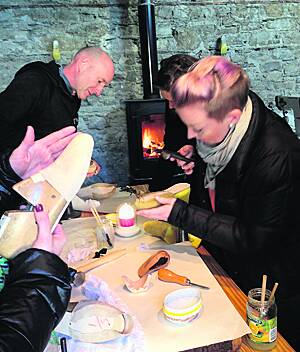 BANTRY-based shoe company Shoeniversity have been named as finalists in the new National Tourism Industry Awards.
The award finals, to be held in Dubin on April 24th, will see the Bantry House-based firm competing in the Best Design in Tourism category.
They will face stiff competition from Cliff House Hotel in Ardmore, Inis Meåin suites and Restaurants, The Sprit of Place Discovery Points in Co Mayo and the Connected Communities Trails in Kilkenny.
'This is wonderful recognition of the vision of Shoeniversity,' said courses director Marie Brennan. The course offers professional and leisure-based training in shoemaking. 'We are thrilled and delighted to be nominated – especially for such a tiny company that is not yet a year old.'
'It is a cliché but we feel like we have achieved so much just being nominated especially as we are up against such strong competition,' she told The Southern Star.
The Irish Tourism Industry Awards showcase the country's most successful and innovative tourism products, services and experiences, and are organised and presented by the Irish Tourist Industry Confederation, ITIC's industry members, Fáilte Ireland, and Tourism Ireland.
Shoeniversity is a shoemaking enterprise offering both fun and informative training in shoe making from one-day courses, through to professional level training.
'We are getting lots of enquiries from people wanting to study with us on longer courses where they would learn the skills to work as a shoemaker/designer on completion. We'd need significant investment for that to happen, but we are definitely planning for this in the future,' said Shoeniversity's design director Julian Berwick.
The company is based at studios in the East Stables of Bantry House. They are also developing their own range of shoes under the brand 'Equipage' and are currently receiving mentoring from Eddie Shanahan, director of the Irish Fashion Council, and are developing a small range of shoes for sale in a select number of outlets nationwide.
'There are lots of exciting things happening but we are taking things one step at a time,' said Marie.