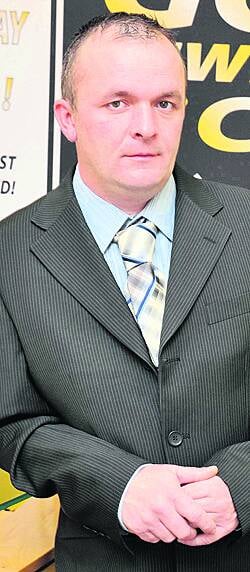 THE prisoner who died as the result of a fatal stabbing in Cork Prison was Bandon native, and father of three, Graham Johnson (41).
Mr Johnson was serving a five year sentence for robbery and larceny when he was stabbed to death during a row in the prison kitchen around 5pm last Saturday.
Mr Johnson suffered a single stab wound to the chest in the row and prison nursing staff attended to him at the scene, but he was pronounced dead a short time later by a doctor.
Mr Johnson was one of a number of trustee prisoners working in the kitchen at the time and it's understood that a row broke out with another man over a remote control for the kitchen TV.
It's believed that one of the men wanted to watch horse racing on TV but the other man wanted to change the channel and a row broke out between them.
Trustee prisoners are prisoners who are considered suitable to work in certain areas of the prison and kitchen work is seen as a privileged position.
Gardai at Watercourse Road Garda Station in Cork were notified and the kitchen was immediately cordoned off to allow garda technical experts carry out an examination of the scene.
It's understood that garda technical experts recovered a metal item which they believe was used by Mr Johnson's assailant and it has been sent for forensic examination.
Mr Johnson's body remained at the scene until late on Saturday night when his remains were removed to Cork University Hospital for a post-mortem.
It's believed that an examination revealed that Mr Johnson, who was from Ardan in Bandon, died from a single stab wound to the chest.
Gardai took statements from the other trustee prisoners who were working in the kitchen at the time, to see if they saw the row developing between Mr Johnson and his assailant.
They have examined CCTV footage to establish whether there was any background to the row between Mr Johnson and his assailant prior to the assault.
The suspect in the case, a 30 year old man who is on remand for a seriously violent assault in Cork city earlier this year, was put into isolation following the fatal assault.
Both the Irish Prison Services and the Inspector of Prisons have also begun separate investigations into Mr Johnson's death.
Mr Johnson was due for release next year from prison after he was given a five year jail term with one year suspended, in November 2011, for robbery and larceny offences.
He had been given temporary release at Christmas by the prison authorities, but had returned to Cork Prison following an incident in West Cork, to finish out the remainder of his sentence.
Mr Johnson, who had worked in the construction sector, had pleaded guilty to robbery and larceny when he appeared before Judge Patrick Moran at Cork Circuit Criminal Court, in 2011.
On that occasion, the court was told Mr Johnson had stolen €15,000 from his employer and later held up staff at a gold shop in Mallow in an armed robbery to feed a chronic gambling addiction.