The question has been popped and you've said 'I do'… Michael O'Neill of Fernhill House Hotel shares his top tips for what to do next .
Don't forget to have fun and enjoy yourself – with so much to do after getting engaged and before saying 'I do' it can be the one casualty.
That's the advice from Michael O'Neill, Fernhill House Hotel, Clonakilty to recently engaged couples, and with two major awards under his belt so far this year, he knows what he's talking about.
The hotel, with its breath taking gardens, has just been honoured as best wedding venue in the South West at the Irish Wedding Awards and were also ranked 12th out of Tripadvisor's top 25 hotels in the country.
Get booking
His top advice to couples who have just got engaged is to book the 'big ticket' items as soon as possible.
'Getting engaged is one of the most amazing experiences you can have in your life so you might be tempted to take it easy. But it really is worth it to book things such as your hotel, photographer and band straight away to ensure you don't miss out on the best ones.
'You can always relax and take it easy afterwards happy in the knowledge that you have the best suppliers booked for the day.'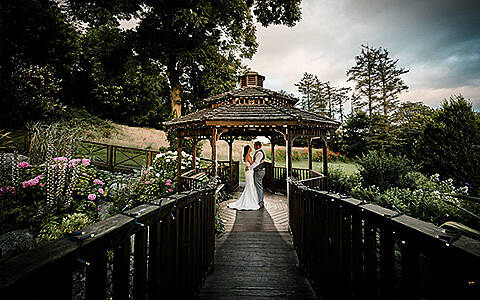 Have fun
Then with some of the major work out of the way, he advises couples to enjoy the run up to the big day.
'I was married a few years ago and we had a huge engagement party. We did dance lessons with our bridal party and we had a wedding wine and a wedding cake tasting evening with all of our family and friends.'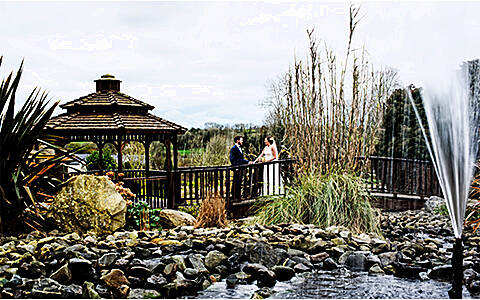 Expert advice
One such fun event is a wedding expert event they'll host next month, featuring well-known blogger SoSueMe, Suzanne Jackson. Running from 6-9pm on March 2nd, it will feature wedding tips, suppliers, a fashion show, beauty and skincare advice, a G&T drinks reception, wine, tapas, goodie bags and more
Brides to be are encouraged to bring along friends and bridesmaids with fun guaranteed as well as plenty of useful information.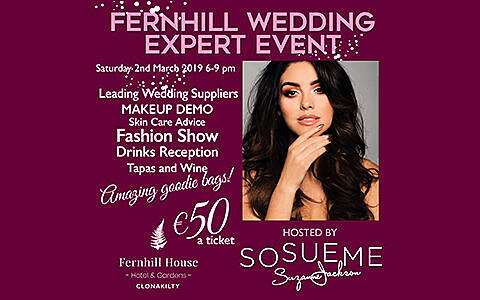 Another huge source of help, inspiration and support to couples is Fernhill's wedding coordinator Ann Cullinane.
Michael said: 'Your wedding is such a special day so it's worth getting some expert advice. We have our own free wedding magazine and an amazing wedding coordinator Ann Cullinane to help you make the right decisions.'
Ann added: 'I'll be here to help at every step from picking your suppliers to choosing your menu. No request is too big or too small. I'll help create a wedding that you will cherish forever.'
Fernhill's Wedding Expert event is on March 2nd from 6-9 pm. Tickets are €50 and are available from Fernhill House Hotel & Gardens. Call 023 8833258 for more information.