The latest inductee to the West Cork Sports Star Hall of Fame, bowler Christy Mullins chats to Kieran McCarthy about his latest award, the €94,000 score and that elusive senior title...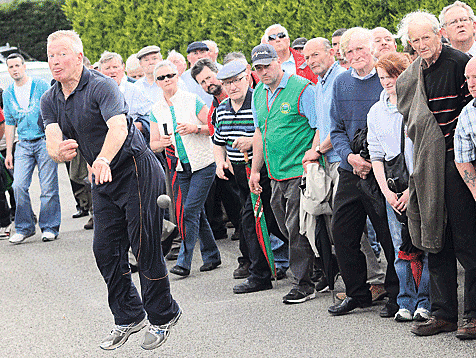 THERE isn't a road in the county that Christy Mullins isn't acquainted with.
One of bowling's most enduring characters, the Bantry man knows the county's highways and byways like very few others, having walked them, bowl in hand, since he first threw in anger back in the early seventies.
His first score, he remembers it well. 1971. It was in the U16 West Cork championship. Christy was just 13. Bowling to him then was a bit of fun, entertainment for him and his friends. As long as they had a 16-ounce bowl in hand they were happy.
Now, 44 years later, a bowler more in love with the game than ever before has been recognised for his contribution to the sport, as he will be inducted into the Celtic Ross West Cork Sports Star Hall of Fame at the annual awards night this Saturday in Rosscarbery.
He is following in famous footsteps as Roibeard O'Dwyer (2011), Declan Barron (2012) and Tim Crowley (2013) have all been admitted to the Hall of Fame since its inception in 2011, and now Mullins becomes the first bowler to receive this accolade.
'I never in my wildest dreams thought that I would receive an award like this. It came as a big surprise to me,' the 57 year old admitted.
'It's great for bowling too because it's a real West Cork sport. A lot of people follow it, a lot of people play it and a lot of people look forward to picking up The Southern Star on a Thursday to read the results.
'I love the sport. I like meeting people, talking to them about the sport, it's a great topic of conversation around West Cork. I still love competing and I am enjoying it all as much now as at the very start.'
Since those early days in the 1970s, Mullins has been an ever present on the bowling scene and a permanent fixture in the senior circles since 1980. His longevity is startling, competing at the top level longer than anyone else of his generation.
As good as he is however, landing the Munster senior title has always eluded him. Simply put, he is one of the best players never to win the senior crown. It's a record he wants to change.
He has had his chances. He knows that. Back in 1987 Seamus Sexton took the honours at The Miles, Clonakilty. There was 2011 when he lost the final to David Murphy, 2012 when Martin Coppinger won the Bantry derby decider, and then last year (2014) it was Aidan Murphy that denied Mullins the trophy he wants the most.
'I bowled the score of my life last year in the senior final but Aidan Murphy was on fire that day and he was just too good for me. I have come close on a couple of times but just haven't made it...yet. I haven't given up hope. I'm going to keep at it for another few years,' Mullins said.
'To be honest, I'm playing as well today as I have ever played. I don't know where it's coming from but I won more scores last year, all over the county and the country, than ever before.
'I've been blessed that I've never had a serious injury and if I can stay injury free over the next few years, hopefully I'll be there or thereabouts.'
Winning the title that has eluded him all these years won't come easy, and there's a chance it might never happen. But there's one record that is unlikely to be taken from him in the future, as he took part in the score with the biggest ever stake, a mind boggling €94,000, back on March 9th, 2008, in Castletownbere.
Partnering Martin Coppinger, the Bantry boys defeated Brinny brothers Aidan and David Murphy in a Bol Chumann benefit score, to raise funds for the European championships that were being held in Bandon that May. That's the stuff of legend.
'I was the old stager that day,' he laughs, 'but I more than held my own!'
Amending an old adage, behind every good bowler there follows good supporters. Mullins agrees in an instant.
'If you have good supporters then that makes a huge difference. I have a great bunch of supporters at the moment, they follow me everywhere, they back me when it's needed, so I put in 100 per cent for them and they give me 100 per cent back,' said Mullins, who even has his own Facebook page, Christy Mullins Supporters Club.
'I don't think I have ever missed a championship score and even when I was working in London (he moved there in 1988 for a few years) I'd come home for the championship. It's just something I always wanted to do.'
Now living in Dromleigh, Bantry, Mullins is also a former St Colum's hurler and footballer, and it was the norm for him to line out for his GAA club on a Saturday followed by bowling on a Sunday. From then to now, bowling has changed, as Mullins explains.
'The roads now are a lot smoother than they were when I started out but saying that the roads all slope nowadays to run the water off so there is no such thing as a flat middle to a road. There is a big fall to both sides of the road now, which makes it more difficult to keep the bowl on the road,' the father of two said.
'Years ago there were also a lot more bends and it was a skill in itself to loft a bend and gain an advantage that way, by throwing the ball over the corner. A lot of those bad bends are gone from roads now.
'In my prime I'd be able to loft it maybe 80 yards and that was a great skill to have because you'd take a slice off the road.'
Reflecting on the health of the game itself currently Mullins feels that while standards in some grades are dropping, great work at youths' level will bear dividends in future years.
'It's very competitive but I do think the standard is after dropping,' he said.
'In West Cork at one time in the early 1980s it was the first 64 that went into the championship. It was limited to that. But now all you have it six or seven junior players in the West Cork region so that part of it is gone down. It's still competitive at the senior level but the junior level has gone back.
'Ted Hegarty, out in Lyre, does a lot for the youth, runs a lot of competitions for them, while there is also a scheme there that involves the schools' bowling. In fairness to Bol Chumann, they are doing more now for bowling than ever before.
'Nowadays there are more distractions for young people, more sports to play, more places to go, while back in my day there was no such thing as an xBox. I'll be honest, when I was bowling as a kid we didn't even have a television so bowling was our entertainment and it meant a lot to us.'
Selecting Shannonvale and Rosscarbery as his favourite bowling roads, and in that order too, it would be remiss to not also point out that Mullins has represented Ireland on the international bowling stage for over three decades.
He has been an ever present since he was first selected to bowl for Ireland in 1977, winning medals in both road and Moors disciplines.
There was his bronze medal success in the Dutch Moors category at Tubbergen, Holland, in 1980, followed with a silver medal at the following games in Garding, Germany, in 1984.
Mullins shone in the road bowling event in Norden in Germany in 1988, winning the silver medal from a field of 40.
Since then he has been coach and mentor to Ireland's most successful teams in European Championships, here in Ireland in 2008 and in Italy in 2012.
The memories bowling has supplied Mullins are countless, and in return he has been a fabulous ambassador.
In his own words, 'as long as I am enjoying it I'll keep at it', music to the ears of all bowling fans. And while he might now be a Hall of Fame entrant, there's still the matter of that senior crown to get his hands on. A lot done, more to do.