Three copies of fantastic new West Cork GAA book are up for grabs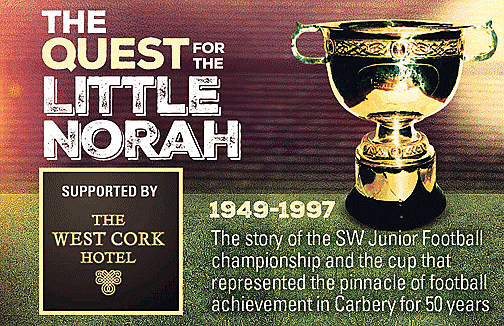 IN 1997 the Little Norah Cup, the symbol of junior A football supremacy in West Cork, was retired after 49 years in use.
First introduced in 1949, the quest for the famous cup had seen some marvellous contests down the years. Bandon had been most successful, winning it ten times, including a four in a row from 1950 to 1953. Dohenys were next with nine, again including a four in a row, 1956 to 1959.
The full story of the championship from 1949 to 1997 has now been recorded in print by Tom Lyons, Southern Star GAA journalist. The book, containing over 350 pages, plus over 400 photographs, will be launched on Friday, January 23rd, in the West Cork Hotel, Skibbereen, courtesy of main sponsor, Tim Looney.
The South West Junior Board will hold the South West junior A football draws for 2015 in conjunction with the launch.
Also, in conjunction with the launch The Southern Star is offering three free books to the three winners of a competition to name their best Little Norah Team 1949 –1997.
So many great players have played in the Little Norah championship down the years that the task of picking a best 15 is almost impossible, so we have reduced the readers' task by naming a selected 15 from each decade, 1950s to 1990s. Even at that, some outstanding players have failed to gain inclusion but all their contributions to a wonderful championship are more than recognised in the book.
The winning team will be special guests on the night of the launch, as will as many winning captains as possible, plus many outstanding inter-county stars.
The only rule attached to the competition is that a player has to be selected in his given position on the teams of the decades, while recognising that many players starred in a variety of positions with their junior teams. The only exception is at midfield where any of the ten named players may be selected.
The three winning entries will be those that come closest to the best team that has already been selected by book author Tom Lyons.
All the players named on the five teams played in Little Norah Cup finals.
1950s
1. Paddy O'Neill (Bandon)
2. Liam Grainger (Dohenys)
3. Jackie Walsh (Bandon)
4. Dan Murray (Darrara College)
5. Jerry Collins (Bandon)
6. Denis Bernard (Dohenys)
7. Dick Chute (Darrara College)
8. Tom Moriarty (Clonakilty)
9. Denis O'Donovan (Basndon)
10. Denis Collins (Dohenys)
11. Séamus Davis (O'Donovan Rossa)
12. Carbery Lyndon (Bandon)
13. Gene McCarthy (Carbery Rangers)
14. Pat O'Riordan (Bandon)
15. Dermot O'Donovan (O'Donovan Rossa)
1960s
1. Pat Cronin (Dohenys)
2. Tom Bermingham (Bantry Blues)
3. Frank Kehily (Newcestown)
4. Mick Farr Snr (Dohenys)
5. T J Mackey Collins (Newcestown)
6. John Young (Dohenys)
7. John Crowley (Dohenys)
8. Pat Laverty (O'Donovan Rossa)
9. Dermot Kehily (Newcestown)
10. Dan Dineen (Bantry)
11. Dan Murphy (Ballinascarthy)
12. Raymond O'Neill (Bandon)
13. Johnny Carroll (Dohenys)
14. Donal Hunt (Bantry Blues)
15. Eamonn Young (Dohenys)
1970s
1. Gearóid O'Leary (Bantry Blues)
2. Seamus O'Sullivan (Dohenys)
3. Pat Coakley (Bantry Blues)
4. Dinty Collins (Castlehaven)
5. Robert Wilmot (Bandon)
6. Noel Crowley (Bandon and O'Donovan Rossa)
7. Tim Healy (O'Donovan Rossa)
8. Christy Collins (Castlehaven)
9. Fachtna Murphy (Ballinascarthy)
10. Denis Crowley (Castlehaven)
11. Bobbie Evans (O'Donovan Rossa)
12. Jimmy Gabriel (Bandon)
13. Denis Cotter (Bantry Blues)
14. Declan Barron (Bantry Blues)
15. Teddy Holland (Ballinascarthy)
1980s
1. Tadhg Farrell (Clann na nGael)
2. M P Hicks (Carbery Rangers)
3. Eddie Mullins (Clann na nGael)
4. John Evans (O'Donovan Rossa)
5. Tony Davis (O'Donovan Rossa)
6. Kevin Kehily (Newcestown)
7. Liam Deasy (Ballinascarthy)
8. Sean McCarthy (Carbery Rangers)
9. Tim Buckley (Newcestown)
10. Tony Murphy (Carbery Rangers)
11. Mick Burns (O'Donovan Rossa)
12. Mick McCarthy (O'Donovan Rossa)
13. Martin Connolly (Clann na nGael)
14. Jerry Ryan (Ballinascarthy)
15. Michael O'Rourke (Carbery Rangers)
1990s
1. Kieran Farr (Dohenys)
2. Owen Sexton (Kilbrittain)
3. Michael Kingston (Tadhg MacCarthaigh)
4. Diarmuid Duggan (Ilen Rovers)
5. Brian Herlihy (Dohenys)
6. Mark Farr (Dohenys)
7. Eugene Murphy (Carbery Rangers)
8. Fachtna Collins (Ilen Rovers)
9. Pat Hegarty (Tadhg MacCarthaigh)
10. Mícheál Farr (Dohenys)
11. Chris Collins (Ilen Rovers)
12. Maurice Moore (Carbery Rangers)
13. Barry Harte (Argideen Rangers)
14. Paudie Murray (Dohenys)
15. Batt Hayes (Carbery Rangers)