A first All-Ireland camogie senior title since 2009 made 2014 a season to remember for Cork and one of their most influential players, Jennifer O'Leary.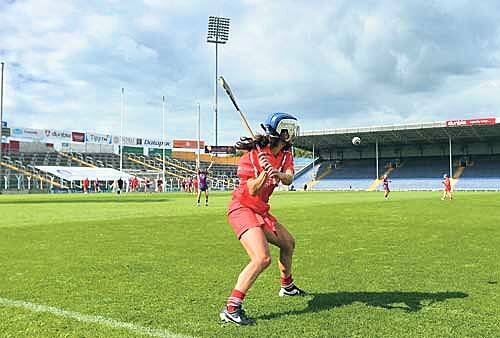 BY GER McCARTHY
A FIRST All-Ireland camogie senior title since 2009 made it a year to remember for Cork and one of their most influential players, Jennifer O'Leary.
Winner of eight All-Star awards and recently crowned Munster camogie player of the year, the former Barryroe star deserves every accolade coming her way after playing such a pivotal role in helping secure a 25th All-Ireland title for her county.
2014 wasn't all plain sailing for manager Paudie Murray and his Cork squad, however, with a surprise 1-12 to 0-11 loss to Clare in the semi-final of the Irish Daily Star National League Division 1 preceding a disappointing 2-14 to 1-11 defeat to Wexford in the championship group stages.
Conversely, Jennifer O'Leary felt those two losses helped refocus Cork player's minds and benefitted the squad heading into the All-Ireland knock-out series.
'I think losing to Clare in the league semi-final was down to a bit of complacency, to be honest with you,' O'Leary commented.
'Despite that defeat, our squad still had total confidence in one another. Training went brilliant for us all year and a lot of that is down to our unbelievable backroom team.
'If we were thinking anything after that loss to Clare, it was that we needed to kick on, be a bit more tenacious at training and do that extra work in the gym.
'There was never a doubt in our heads all year that we were not going to make an impact in the championship. We had a confidence and a good vibe around the squad.'
Embark
Even so, Cork's form coming into the knockout stages of the All-Ireland championship didn't suggest the Munster ladies were about to embark on a journey that would eventually return the O'Duffy Cup to Leeside.
A powerful performance to knock out Offaly in the All-Ireland quarter-finals got Cork's campaign back on track at the beginning of August before two epic encounters with old rivals Wexford.
Then, a late goal saw the Leinster side grab a 1-9 to 1-9 draw in Thurles on August 23rd and Jennifer O'Leary played a starring role in helping Cork emerge victorious, 1-15 to 0-8, following a marvellous replay at Walsh Park, Waterford.
Did those two games solidify belief in the Cork camp that a first All-Ireland title since 2009 was achievable?
'Definitely, although we were very disappointed at conceding a late goal in the first game, that draw was the best possible preparation for getting over Wexford in the replay,' commented the former Barryroe player.
'It was hugely important for our squad to beat Wexford as they have been the camogie kingpins for so long and the fact we seemed to have a mental block when it came to playing them in the past.
'Bottom line is that I don't think we'd have gotten over Kilkenny in the final without those two games against Wexford. The replay really stood to us in the end.'
And so to the final and the sight of the famous Kilkenny black and amber jersey standing in Cork's way of All-Ireland glory. The Rebelettes' dismal opening half performance saw the Cats change ends deservedly 1-6 to 0-4 in front.
Remerged
Cork remerged a different team in the second period following some calm, rather than angry, talking in the dressing room and romped home to a memorable 2-12 to 1-9 victory.
So what happened in the dressing room at half time to turn things around?
'There wasn't any one specific thing said that changed things in the dressing room during the interval to be honest,' admitted O'Leary.
'Some of the more experienced players had their say alright and their words resonated with the rest of the squad but it was still a really calm dressing room.
'We were down five points at half time but not panicked at all. That was different from other years where things were not as calm so we just decided to start playing as soon as we went back out and go from there.
'One of our selectors told us we weren't playing to our potential and I suppose that little dig helped focus minds going out for the second half and we just made it happen.'
Is it possible to articulate the feeling of becoming an All-Ireland champion at the moment a referee blows the full-time whistle?
Special
'Every final is different for a player but the 2014 one was particularly special for me,' noted O'Leary.
'The last time I won an All-Ireland was in 2006 so if I was to attempt to describe this year's feeling I would have to use the word unbelievable. A lot of things race through your head at the final whistle. You think of your family and all the people who have travelled the country to support you.
'You look around and see all the joy it brings to people. It's hard to describe but I guess it's just pure joy.
'I don't think it really sinks in until the morning after when you wake up and go to Crumlin Hospital before returning home. You realise it is not all about you but a broader spectrum of people too.'
A new kind of pressure comes in 2015 with Cork entering the championship as title-holders and hunted by counties who will have upped the ante during their winter training.
O'Leary's assured replies when asked what her personal ambitions are for the upcoming 12 months and if Cork can deliver back-to-back All-Ireland's suggests the Rebelettes will not be far away.
'I think we are certainly capable of retaining our All-Ireland title alright,' said the Cork star.
'A lot of young talent has come into the panel and brought a fresh, new belief. Hopefully, all of our backroom team will stay on because I believe there is another 20 per cent or 30 per cent that this squad can still produce in the upcoming championship.
'That's a good sign for the future and this team can definitely go further and further.'