Even though his hands are full at home following a recent arrival, Togher Celtic manager Dan McCarthy took time out of his hectic schedule to reveal that someone close to him would prefer him to look a little bit more like Steven Gerrard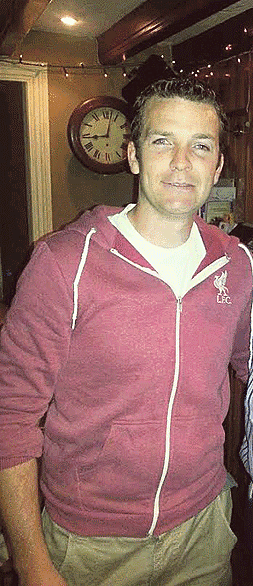 Rate yourself on a scale of 1 to 10 on how funny you are? Minus three. I'm very unfunny, to be honest.
Highlight of your sporting career? Winning the West Cork League U18 title with Togher Celtic was special, especially after losing consecutive league play-offs the previous two years and missing out on a Munster Youths Cup final appearance as well.
Most dialled number on your phone? Definitely my wife Michelle's number as we just had another baby daughter, Ellie, who is only two weeks old! Amelie is our other little girl.
What's your karaoke song? I'd prefer not to sing at all but after a few beers I usually mangle Garth Brooks' song The River.
Tell us an interesting fact about yourself? Well, it has to be the fact Michelle and I just had another baby girl (Ellie) so I am completely outnumbered in our house now by three women.
Best-ever holiday? It has to be my honeymoon trip to Bali and Vietnam. Bali was pure comfort and Vietnam was a real surprise package, a really beautiful place to visit.
If you won the lotto what would buy first? After Sunday's abandoned mygaff.ie Cup quarter-final it would have to be a brand new pitch for Togher Celtic!
Separated at birth, who's your celebrity twin double? I've been told I'm very like Jon Cryer's character in the Two and Half Men TV series. People say we have the same dry sense of humour but I'll leave it up to others to decide that.
What's your favourite word? Can it be a swear word? (Sports Ed: No, it can't). Okay, Plan B, probably 'stop' or 'no' with two little girls scuttling around the house.
If you could change any part of you what would it be? I don't know really but if you ask my wife Michelle she will probably say change my appearance to look more like Steven Gerrard.
Your most treasured item of clothing? I have a Liverpool kit signed by Ronnie Whelan which is very special to me but there is a green Togher Celtic top that has been something of a lucky item for me and that's being worn quite a bit at the minute.
Favourite cartoon? I guess I'd be a bit more of a Batman fan more so than Spiderman.
If I was an animal I would be a ... a little chocolate Labrador, similar to my own pet at home. Easily led...
What question would you like to have been asked in this interview? Is there any specific reason Togher Celtic haven't been more successful over the past number of years?