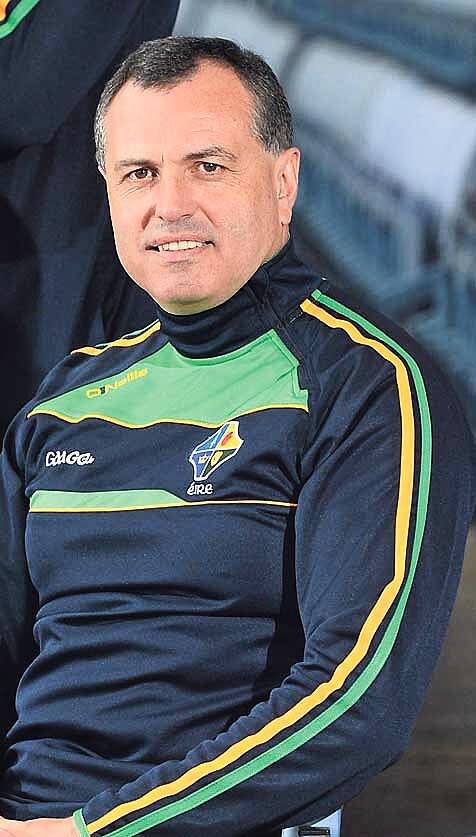 BY KIERAN McCARTHY
VARIETY is the spice of life, as they say, and it could also hold the key to Cork trumping Kerry in Saturday night's Munster SFC final replay in Killarney, according to Sky GAA analyst Paul Earley.
The former Roscommon footballer (pictured), who also managed the Ireland International Rules team, feels that Cork need to bring something different to this rematch, to catch Kerry off guard.
Earley fully expects to see an improved Kerry on Saturday night and Cork need to have a few surprises up their sleeve – like varying the ball into the full-forward line, as he explains.
'It's a massive challenge for Cork, even bigger than the drawn game in some respects because we have seen what they are capable of. They have set their own bar,' Earley told The Southern Star
'Replays don't often follow the same trend as the drawn game. The really good sides will do something different in the replay. They will bring something different to it.
'If you analyse it, you might ask could Kerry decide to leave Kieran Donaghy on the bench and go with a strategy of kicking those 15 to 20-metre passes in low to a forward line, which they are good at, to split open the Cork defence?
'Cork would be prepared and will be prepared for the high ball into Donaghy, but Kerry could change their strategy and put Cork on the back foot. Kerry have more options to change the way they play they game then Cork have.
'I know there was criticism of the Cork full-forward line for a lack of movement the last day, but I wouldn't be criticising them because for years those forwards have made plenty of runs and they haven't received the ball. If you know the ball isn't coming in then you're not going to make the run.
'I would like to see Cork vary their game a bit and hit some long balls inside. Those two fellas inside, Hurley and O'Neill, can win their own ball, and you can mix it up with the running game that was so successful in the drawn game.
'If Cork persist with the same game as they did the last day they won't make any headway as Kerry will be prepared for that. They won't allow the Cork half backs to run the middle as easily as they did. Kerry will certainly be better at closing Cork down and putting them under pressure.'
Two-time Connacht championship winner Earley also feels that Alan O'Connor needs to be wrapped up in cotton wool and stay injury free to give Cork the best chance of making an impact in this year's football championship.
Earley admits he was surprised by O'Connor's man-of-the-match display against Kerry in the drawn game, given that the St Colum's clubman had just returned to inter-county football in late April.
While he feels it might be asking too much for O'Connor to replicate his 'Herculean performance' in Saturday night's Munster final replay, the returning Rebel remains key to their chances of success, as does the attitude that Cork bring to Killarney.
'If Cork play with the competitiveness that they showed in the drawn game then they will make a big impact in this championship, whether it's this Saturday or in the weeks after. That's the starting point for Cork – they need to be fired up and compete very aggressively for the whole game,' Earley said.
'Cork have a lot of quality players but in the recent games where they were well beaten they didn't show any fire, energy and competitiveness. But they showed it the last day, and if they can bring that intensity again, and with Alan O'Connor back, they can be a threat.
'I was worried about Cork's midfield during the year, whether it was good enough to make an impact, but O'Connor has made a massive difference.
'However, it's a big ask of him to have the same level of dominance again on Saturday – and I don't think he will have because Kerry will put him under massive pressure. That's why Cork need to think that O'Connor won't have as impactful a game and why they will need other kick-out strategies.
'A lot will depend on keeping Alan O'Connor injury-free and his fitness, and if they can play with that level of competitiveness and pace that they showed at times in the drawn game, they can certainly be a threat.
'The big issue is that if Cork do get beaten on Sunday they only have seven days to turn it around. Even if Cork don't win this weekend the season is far from over for them.'