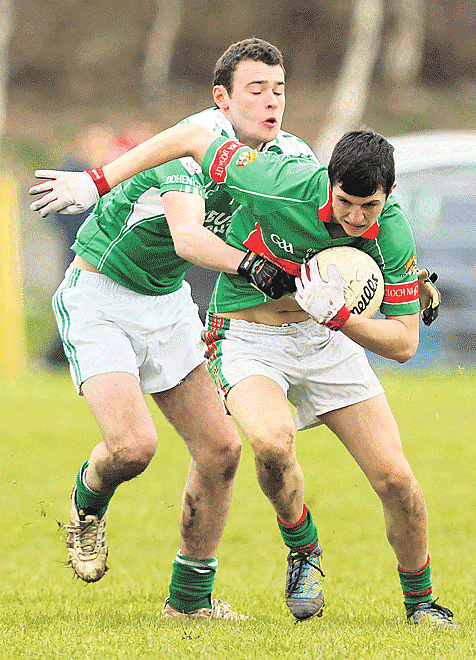 CHAMPIONS for the past two years, Clonakilty, going for an unprecedented three in-a-row, take on Newcestown, who last won the title in 2006, this Sunday in a semi-final clash.
The sides met two years ago and Clon were hard pushed to emerge winners with a late burst of scoring. Clon will field about eight of the 20 who played that day, including county U21 players Sean White and Jack O'Mahony.
In the first round Clon, minus two suspended and three injured players, were put to the pin of their collar to survive a vibrant challenge from Carbery Rangers, powered by the O'Rourkes, Thomas and Cathal, in dreadful weather conditions in Castlehaven. A goal by their top forward, Ian Falvey, just after half time, when they trailed by 1-6 to 0-6, proved the crucial score in a 1-9 to 1-7 victory.
'We knew Ross would push us to the limit and the weather didn't help, plus the missing players,' said Clon mentor Niall Deasy.
'The decision this year was to let the U21s train with the seniors and so we haven't done much with them as a team. Having players on the Cork U21 and minor teams makes things harder as well.
'We know what to expect from Newcestown. If we don't match their total commitment and fierce work rate, we might as well stay at home. They never give less than 100 per cent and we can't give any less. They had a very young side two years ago and will be two years older, tougher and better now.
'The form against Ross won't suffice to win this one and if we try carrying the ball down the centre like we did that night, we'll be blown out of it. This is going to be a real test of our lads and I just hope we're up for it.'
Clon will depend on county U21 players Sean White and Jack O'Mahony, Ian Falvey and county minor panellists David Lowney, Sean McEvoy, Tiarnán O'Connell, Mark White and Zack Harrington to lead them through this one.
In the first round this season a young Newcestown side, despite missing a few star players, overcame a fancied Bantry side by a point in Dunmanway, 0-7 to 0-6. The most notable feature of that game was the defensive display by the Newcestown lads in the second half, having led by only two points at half time, when they confined Bantry, who were playing with the strong wind, to only two pointed frees.
'We did very well defensively,' said mentor Carthach Keane.
'We didn't realise Bantry were fancied to do well this year and we just took them on. We did miss a lot of opportunities in the first half with the wind and put ourselves under a lot of pressure afterwards.
'We had a good run in this grade for about seven years, winning it in 2006 and losing finals in 2007 and 2010 but haven't been at the races for the past few years. We found it hard to get in football training because of hurling commitments but we've done a few nights since the Bantry game.
'Trevor Horgan will definitely be missing and we have a couple of other doubtfuls. Clon are very fast, very good on the ball but they were nearly caught by Ross. Their county player, Sean White, is playing well and they have five Cork minors on their side.
'We'll be looking to Mícheál McSweeney, who was picked on the Cork U21 side against Kerry, and Luke Meade for big games. Clon have never won three-in-a-row and will really be fired up for this one.'
Verdict: Clonakilty to stay on track for three-in-a-row.