Despite reporting the illegal dumping of nappies to the authorities, the scene remains the same four months on
Readers of The Southern Star were horrified to read in March that dozens of dirty nappies had been dumped near a lay-by off the main N71.
The nappies had been deposited in black bin liners but had been torn apart by animals in the small forested area, off the Skeagh Road, close to the main Ballydehob to Skibbereen road – which is also the main route from Skibbereen to Killarney.
But, despite having reported the illegal dump to the authorities, the nappies were still in the same spot when The Southern Star visited the site again this weekend – four months later.
At this point, there were quite a lot of flies circulating in the area and many of the bags had been dragged about the area and were lying, split, several feet from the original site.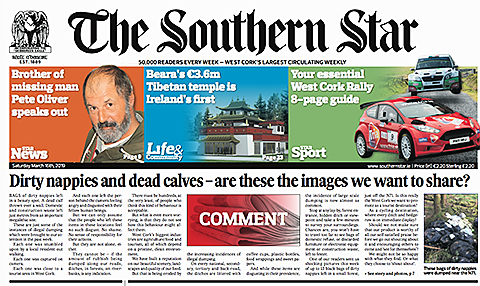 The Southern Star carried similar images on its front page in March of this year