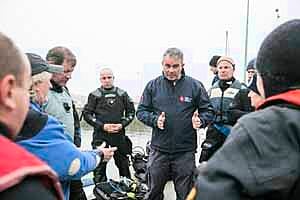 BY JACKIE KEOGH
THE underwater search resumed this (Thursday) morning near the Beacon at Baltimore in West Cork for the body of Barry Davis Ryan, who went missing when he was swept into the sea on the evening of Tuesday, June 30th last.
John Kearney, one of the founders of the West Cork Underwater Search and Rescue Unit, explained that the divers 'have a two-day weather window in which we will have to go over the ground we have already covered because the gales over the last two days could have caused a lot of movement underwater.'
The groundwork has already been set: John confirmed that local fishermen are doing 'incredible work in laying down long-distance lines along the seabed for approximately 350 metres that will allow the divers to swim along the lines and search in a grid formation.
'We will be leap-frogging these lines and will get the next set of divers to do the next set of lines. It will be a slow process because we need to do a detailed search of where the lines are laid.
'I can't emphasise enough how detailed the search will need to be so we don't have to search the same area again. We covered a lot of ground on Sunday but conditions were difficult. There was very heavy wind on Monday so it was not possible to search, and the same was true of Tuesday.
'Although the weather was calmer on Wednesday, we still need to give it 24 hours for the sea conditions and the underwater visibility to settle. On Thursday, we will dive all day right through to 8pm or 9pm. And the same thing again on Friday, weather permitting.'