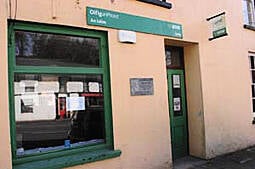 BY JACKIE KEOGH
A 40-minute meeting between West Cork TD Jim Daly and Enda Kenny ended with a detailed letter being sent to the Taoiseach requesting a two-year reprieve for Leap Post Office.
Mr Daly said the Taoiseach requested that a formal letter be sent to his office before he would make direct representations to An Post – with a view to asking the company to re-advertise the contract for the office.
Although the outcome is uncertain, Mr Daly said he hoped that the involvement of the Taoiseach's office would 'help strengthen the case for the people of Leap who have been without a local postal service since the office was closed in February due to a contractual dispute with the former operator.'
In the letter, Mr Daly asked his party leader to urge An Post to review its decision and give Leap a two-year a reprieve – a period that would allow the community to show their commitment to the service. 'If, at the end of that time, a local post office is not deemed viable,' Mr Daly said, 'the people of Leap would accept An Post's decision.'
Mr Daly said his suggestion was 'a fair and reasonable request' given the fact that An Post gave the people of Leap 'no warning about the office closure,' and 'no opportunity to prove their commitment to the local postal service.'
As a former teacher in the village, Mr Daly told the Taoiseach: 'I can vouch for the exemplary community spirit in Leap,' as evidenced by the huge turnout for each of the public rallies to retain the office.
Pat O' Riordan, chairman of the Leap and Glandore Community Council, and the West Cork Oireachtas members, argued that Leap needs to retain its post office given the large level of investment in the village over the last three years, as well as the invaluable service it provides the members of the community, particularly pensioners.
'Why at a time of transformational change in the fortunes of Leap Village – brought about by the investment of numerous private businesses – would a semi-state body decide to pull the rug from under that very same village?' Mr Daly asked in the letter he submitted to the Taoiseach.