It has never been easier for you to stay in contact with your team at Skibbereen and Bandon Credit Union.
The new Members Service Centre is now up and running to provide quick and efficient help when you need to speak to any member of the team at the Skibbereen or Bandon Credit Union. You can also apply for a personal or car loans or perhaps funds for that well deserved sunshine holiday.
'Instead of calling us to arrange an appointment with a member of the lending team, you can now make your application by phone,' acting CEO Elma Casey said.
'The Members Service Centre is your first point of contact, our team can talk you through the loan application process and then all you have to do is call in and sign the paperwork when your loan is approved.'
The new service centre is designed to streamline the process for the customer, making all your calls to your local community credit union hassle free, efficient and easier for you to make the most of your credit union.
'For now, if you apply for a loan over the phone through our Members Service Centre, you can securely email in all your paperwork,' Casey said.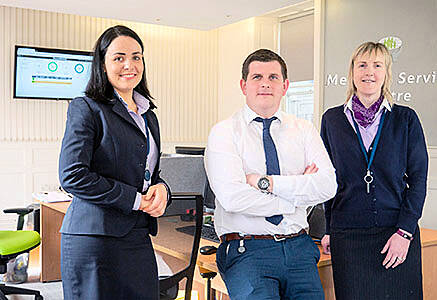 'However, we are continuing to enhance this service with the view to ensuring our members can, in the not too distant future, make online loan applications as well. This will enable a member to apply, receive approval and have the funds transferred to an account of their choice all from the comfort of their own home.'
Unlike other financial institutions and keeping with the community first ethos of the Skibbereen and Bandon Credit Union, when you call the Members Service Centre you won't spend your time listening to an automated reply or pressing endless numbers while you wait to speak to a person, who will no doubt be located, in a call centre hundreds of miles away.
'Your credit union is part of your community,' Elma said.
'You will speak with a member of the team who will be able to help you with all your needs and questions. You can also submit an online query on our website and this will come to the Members Service Centre after which a member of the team will contact you by phone.'
The Members Service Centre has been up and running now for over a month with all the calls monitored to ensure that members continue to experience a first class service from their community credit union.
'Our services are continuing to develop and we will have a full banking current account available to our members before the end of 2019,' Elma said.
'We are constantly evolving and developing our services for our members and our community. The Skibbereen and Bandon Credit Union is first and foremost a community alternative for your financial services. We are first and foremost a financial cooperative, which is member owned and run, and we will continue to work to provide our local community with efficient, effective and personal financial services. Remember, our Members Service Centre is just a call away.'
For more information, call the Members Service Centre on 028 21883 or logon to www.skibbereencu.ie