Born in Dunmanway, Councillor Joe Carroll (FF) has lived in Skibbereen for most of his life with his wife Sheila who will be known to many through her involvement in CoAction.
He has been involved in public life since 1999 and believes he has a solid track record of supporting his constituents through commitment and hard work.
'I've helped many people with personal issues ranging from planning, road safety, public lighting, pot holes and wheelchair accessible car parking.'
Housing, Employment, Farming and Fishing
During his last term in office Carroll made over 250 representations on behalf people seeking assistance in relation to social housing applications.
'It is important to grant planning permission for one-off housing as it supports local employment and keeps the community alive in West Cork.
'I will continue to prioritise housing, especially for the elderly and infirm,' he noted in a recent conversation with The Southern Star.
Carroll is also passionate about supporting local businesses who employ local people and who source produce from local suppliers.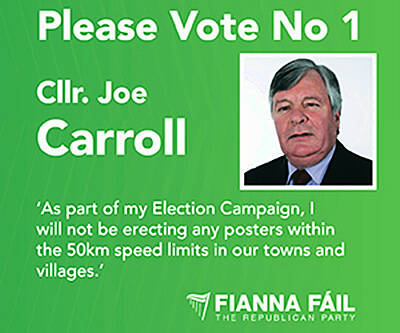 'If we all spend our money locally, we have a direct and positive impact on our economy.
'Our farmers and fishermen have been neglected over the years by successive governments. I support farming organisations seeking increased farm supplements, and I have always voiced my concerns about the fish quotas. At this precarious time because of Brexit, our farmers and fishermen need our support more than ever,' the lifelong Fianna Fáil member said.
Community and Health
Having previously served as Deputy County Mayor, Carroll has seen first-hand the importance of community and health for rural Ireland.
'Our hospitals are of vital importance and we should do everything possible to support them,' he says having been involved in the successful 'Real Wedding' fundraiser held for the Skibbereen Community Hospital.
'I am also delighted that we have persuaded our council to increase the community grant awarded to local Tidy Town groups as it has become clear to me that these committees are now doing a lot of work which was previously done by the council.'
Carroll says he is a great admirer of: 'hard working volunteers in community organisations such sports clubs, youth facilities, Cancer Connect, Cope and Co-Action.'
Islands
A steadfast supporter of the islands, Carroll was delighted with the launch of the West Cork Island Community Fund Scheme saying: 'I will continue to work for the introduction of these schemes and will continue to fight for the improvement of Baltimore Harbour and the development of a breakwater.'
Skibbereen
'I have been a great advocate for the Skibbereen Flood Committee during their years of trojan work securing the €15 million Flood Relief Fund' says Joe, 'I have also fought for the upgrading of the Skibbereen Bring Site and am delighted that these works have begun and I will keep lobbying for the upgrade for the Town Hall.'
Cllr Joe Carroll is aiming to be re-elected in the Skibbereen/Dunmanway/Clonakilty electoral area when polls open for the local elections on May 24. He wishes every success to all his Fianna Fáil colleagues who are contesting the Local or European Elections.