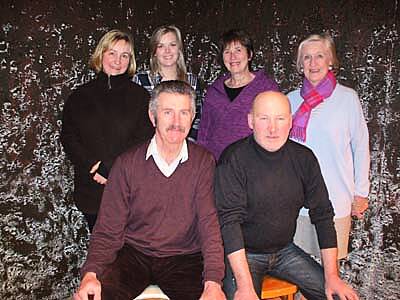 SKIBBEREEN Theatre Society won the Best Presentation award in the 2015 All-Ireland Confined Drama Finals in Kilmuckridge, Co Wexford, this weekend with their production of Family Plot by Darragh Carville.
The overall winners were the Kilrush Drama Group from Co Wexford with local playwright Billy Roche's Poor Beast in the Rain. As well as winning the Best Presentation award, the Skibbereen group was also nominated for Best Lighting, while Carmel O'Driscoll and Ger Minihane were among the nominees for the Best Actress and Best Supporting Actor, respectively.
The West Cork group performed on the opening night on Friday, April 10th. Even though opening night is considered not to be the best one of the nine to be drawn for, their performance received a good adjudication from Patrick Sutton, setting the bar high for the other groups.
The set came in for great praise, thanks to the efforts of Barty Connolly, Gearoid McEoin, Charlie Keohane, Fachtna Hamilton, David Keohane, Gearoid McCarthy and Con Minihane.
About the play …
Most people's definition of hell is being locked in a room with their nearest and dearest for more than 24 hours. Look at Christmas. By St. Stephen's Day everyone is ready to run to the hills. So imagine being stuck six feet under with your close relations for the rest of eternity.
This is the terrifying idea behind Daragh Carville's latest play, Family Plot. The award-winning playwright has created a darkly comic ensemble piece far removed from the conventional kitchen sink drama. For Family Plot is set beyond the grave, featuring four generations of the dysfunctional and dead Kerr family.
Aunt Lizzie (Angela Galvin), Da (Ger Minihane), Ma (Catherine Field), Frank (Fachtna O'Driscoll) and Tess (Carmel O'Driscoll) didn't get on in life and they certainly don't get on in death. They continue to battle out the arguments of their lifetimes, until the youngest member of the family arrives in the grave, the last of the line.
It is only with Emer's (Isobelle Nealon) arrival that the family begin to realise that they must accept the cost and consequences of how they lived before their story of forgotten love and shocking betrayal can finally be resolved and they can find some kind of peace.