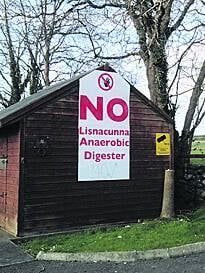 By Kieran O'Mahony
RESIDENTS living near Lisnacunna in Enniskeane are worried about plans for an anaerobic digester – which breaks down biodegradable materials – just 1500m from the national school in Ahiohil.
Up to 100 local residents met with councillors earlier this week to highlight their concerns about the proposed facility. Over 400 people have already signed a petition against it.
Planning permission has been lodged to Cork County Council for the 'construction of a anaerobic digestion facility comprising of (sic) reception building, digester tank, pre storage tanks, storage tanks, biofilter and a weighbridge'. The planning application is being sought by Pat Coffey from Lisnacunna. However, neighbouring residents in the area are worried about the potential risks such a facility may pose.
'Cork County Council refused planning permission for a proposed facility there last year and we couldn't believe that another application has gone in again,' said neighbour Rosey Williams. 'While the concept of an anaerobic digester is green in principle, the problem with this application is that outside waste will have to be brought in and put through the digester to create the methane to create the power,' she said.
'The applicant says that he will be providing all the slurry for the facility, but we don't believe there is livestock on the farm, so this could mean that slurry would have to be drawn in from other farms, as well as the tonnes of brown bin waste.'
Plans for the construction of a cattle shed there last year were withdrawn.
As well as the possible importation of brown bin waste and slurry, local residents are also worried about the threat of noise and air pollution.
Rosey added that there were concerns expressed about potential odours and vermin being attracted to the area, as well as pressure on the roads due to increased heavy traffic.
'The county planner also recommended about six years ago that the road wasn't suitable for large scale developments,' claimed Rosey.
Residents have recently set up a Facebook page called 'Lisnacunna Anaerobic Digester Concern Group'.
'We have galvanised locals in the area who are opposed to the facility. They are posting up placards outside their homes to show their opposition to it. Some people in the area weren't even aware that such plans were being submitted and were surprised at the scale of the proposed operation.'
Rosey said it wasn't a case of 'nimbyism' (Not In My Back Yard) and feels it's just not the right location for such a facility.
'It's been lauded as 'green' but how can that be green when you have to ship in waste from other areas, which leads to a bigger carbon footprint?' she suggested.
The closing date for observations on the planning application is Thursday 26 March and it is expected that a decision by Cork County Council is due in mid-April.