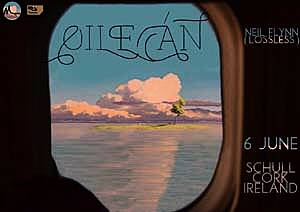 BY JACKIE KEOGH
'BRING tents, bring booze, bring the love' is the wording of an invite that could bring hundreds of young people to Schull on June 6th.
The event, dubbed 'Moodroom presents: Oileán', is planned for the private island of Leighillaun – which is located in Lowertown in the parish of Goleen, four miles west of Schull village, near an area known as Gunpoint.
It is due to take place just days after secondary school students get their summer break. The event is being promoted through social media and is the latest in a number of events organised by a group called 'Moodroom Collective' – which is based in St Andrew's in Scotland.
The social media invitation – asking people if they would like to attend a 'heyevent' on the quarter acre island – has gone out to around 2,000 people and, so far, around 250 have signed up.
Promoted through the heyevent website – which the promoters claim is one of the largest event guides in the world – the West Cork party is rather mysteriously billed as follows: 'Moodroom presents: Oileán: In the heart of West Cork, shrouded in mist, the private island of Leighillaun sits. Empty. Enter at low tide, leave at low tide.'
With low tide set for 3pm on Saturday, June 6th, it is likely to be an early start for the revellers.
And the party could continue until the next low tide at 3.30am, or 4pm on Sunday afternoon.
There is no safe access on, or off, the island outside of these times, except by boat.
Information about how to get to Schull is provided on the heyevent.com website. There are links to Bus Eireann services from Dublin to Cork and from Cork to Schull.
The website also showcases some of the other heyevents that have taken place around the world.
While most of the events are well run and on dry land, there are fears locally that an event such as this – urging event-goers to bring drink to a small island – could have disastrous consequences.
Cllr Michael Collins (Ind), who lives in the area, said he is concerned at the thought of large numbers of young people, many with no knowledge of the West Cork coast, travelling to an uninhabited island to attend a rave-style event.
'I am not a killjoy,' he said, 'but I must admit I have serious concerns about it being held on an island. All of the festivals in Schull are well organised and well run, but to host an event on an island that you can barely swing a cat on, does raise certain issues.
'There has, for starters, been no consultation with the local community. There are no facilities – sanitary or otherwise – on the island, and then there are the very obvious safety concerns that come when you have a large number of young people, with drink on board, travelling over water to attend an all-night party.'
Mr Collins appealed to the organisers, the Garda Siochana and the local emergency services, including the Coast Guard, to have a presence at Gunpoint on Saturday, June 6th next, to urge people to act responsibly, and to ensure that 'steps are taken to prevent a serious mishap, or tragic accident.'