LOCAL Fine Gael Senator Tim Lombard is full of romance today as he encourages people to stay off their phones and instead spend time with their loved ones.
The senator, who lives near Minane Bridge, is a member of the Oireachtas Committee on Communications, and is behind a campaign asking people to desist from using their smart phones when socialising with friends or family – but especially today, Valentine's Day.
The Southern Star first reported his idea of phone-free pubs and restaurants in recent weeks, and since then he says he has had 'an overwhelmingly positive response'.
'In my own constituency, several pubs and restaurants have taken the campaign on board and encourage people to chat to each other rather than waste time playing with their phones while out for an evening or night.'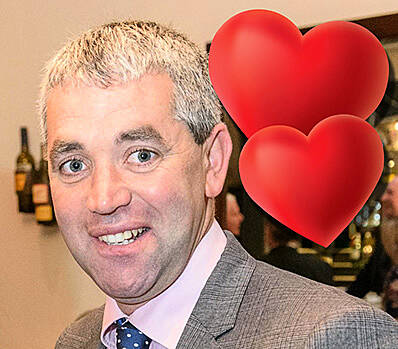 'Today is Valentine's Day. This is a special day where you should spend quality time with your loved one. This Valentine's Day, I'm encouraging people to put their mobiles away so that your loved one doesn't end up on a date with a phone,' the Fine Gael Senator said.
'But all too often, we can get side-tracked and consumed with our smartphones,' he said.
This is rather amusing given the same senator was spotted by our eagle-eyed news editor, during an Oireachtas Committee last February, covertly switching off his device on the seat underneath him, after a ringing phone interrupted proceedings.
Members were gently reminded that they should have had their phones switched off!
You can watch the senator's own phone faux pas here:
@tim_lombard oh that awful feeling when your #phone goes off at an #INM #oireachtascommittee #redfaces! #itwasntme pic.twitter.com/eA1UoG2Hsr

— Siobhán Cronin (@cronin_siobhan) February 7, 2017