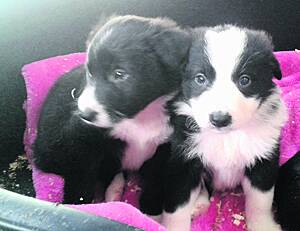 BY JACKIE KEOGH
WITH 50 rescue dogs in its kennels, the West Cork Animal Welfare Group has reached capacity, and is looking for help.
Jennifer Headlam, chairperson of the animal welfare group, has appealed to Southern Star readers, saying: 'The situation seems to be really bad at the moment. A lot of people are bringing stray, or unwanted, dogs here because they fear they will be put down if they are brought to the Pound. It's not just us: Every rescue centre seems to be at capacity right now, and the problem is compounded by the fact that everyone seems to be on the move and can't take their pets with them.'
One way to alleviate the pressure on the overcrowded system, according to Jennifer, would be for people – who genuinely want a rescue pet – to consider re-homing the dogs and the cats which are currently at the West Cork Animal Welfare Group, near Clonakilty, or their local rescue centre.
Jennifer explained that the group – which re-houses an average of 350 dogs every year – is only insured to take 50 dogs, and it doesn't have any more kennel space.
In a bid to tackle the wider problem, the West Cork Animal Welfare Group has taken the proactive step of meeting with local authority officials at County Hall with a view to setting up a website for animals taken to the city and county pounds.
'No one wants to see an animal put to sleep and the local authority would like rescue centres to take some of these dogs, but it is difficult because we all seem to be full at the moment.
'But if a website for the city and county pounds were established, people looking for their lost pets could claim their dog more easily, and it would also make them more accessible for homing.
'As it stands, people looking for a lost pet have to ring County Hall and give of a description of the animal, and the council employee will try and match it with the dogs that have been taken to the pounds.
'This isn't very satisfactory. It can, for example, be hard to differentiate between black and white collies, whereas a website would allow people to check directly.'
The West Cork Animal Welfare Group is currently taking a lot of people's unwanted pets. Just last week, it took in five unwanted puppies that were facing certain death.
Jennifer Headlam appealed to people to be responsible and have their pets neutered. She said: 'Some people think it is unnatural to neuter a pet, but there is nothing natural about taking a litter of puppies to the vet to be put to sleep, or having them dumped in a hedgerow.'