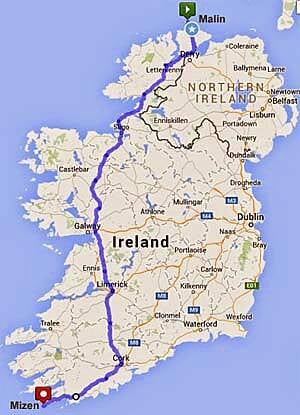 By Orla Healy
WEST Cork businessman, Michael Minehane, is gearing up to run 15 marathons in 15 days.
Between now and May 29th, the Kealkill native, now based in Clonakilty, will run one marathon every day between Malin Head, Co Donegal and Mizen Head in West Cork, in aid of the Jack and Jill Children's Foundation.
The Jack and Jill Foundation provides vital services to children with physical and intellectual developmental delays and their families.
The charity, which runs almost completely on public donations, must raise almost €3m a year to continue to provide these essential services and depends on fundraisers like Michael's.
The Jack and Jill Foundation is a cause close to Michael's heart as he has family members who have benefitted from their services.
Michael says that training for the runs has been going well. He is a seasoned marathon runner and has been training since last June, but he says that in the run-up to the first of his 15 marathons, the heavy training is easing.
Michael will be running over 42km per day, down the length of the country, passing through Donegal, Leitrim, Sligo, Mayo, Galway, Clare, Limerick and Cork.
The 15 marathons will cover a distance of almost 633km in total. Michael will be accompanied by a crew of family and friends for the entire duration of his runs.
On his penultimate marathon, Michael will be running from Bandon to Skibbereen, through his home town of Clonakilty, on May 28th.
The fifteenth and final run will take place from Skibbereen to Mizen Head on May 29th.
For more information about the Michael's marathons, and to help support the Jack and Jill Children's Foundation, visit www.15marathonsin15days.com.